Adult Big Wheel Race for a good cause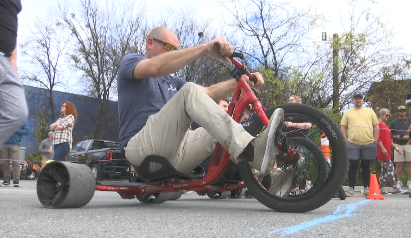 CHATTANOOGA, Tennessee (WDEF)-Downtown Chattanooga saw plenty of events going on for the Main Street 24 parade and celebrations.
One of the highlights was the adult big wheel race for a good cause.
24 teams, 96 racers competed to be crowned big wheel champions. The course looped around the parking lot and saw lots of spin outs.
"Raising money for a good cause and having a blast."
"Kick some butt."
The money raised by participants and local sponsors  is going to sound core.
"The music industry has been impacted so heavily this is just a way to help promote music in the Chattanooga area and help bring them back and give them menus and basically help support them."
"I think it's exciting that we're all out here, small businesses, we are struggling just a year ago and we're out here rejoicing our community and giving back and just doing fun things. This is a great cause we love the live music here in Chattanooga and we're part of this community so it's absolutely phenomenal to be here."
Teams wanted to get in on the racing action and be ready to make a difference.
"We're here because we're a team and we're small business and we're supporting our community and just wanna be seen we wanna be a part of the excitement on Main Street.  War welders that's what we do, it's fine it's exciting just like us. We play we're fire in danger all the time.
The event was able to raise $12,500 for sound core.