We are proud of our history here at WDEF. It is a big part of Chattanooga's history, too. And we would love to hear about your memories, questions or memorabilia. Just drop us a line at News@wdef.com.

WDEF-TV – Chattanooga's First Television Station Signs on April 25th, 1954.
The Chattanooga Times and News Free-Press heralded the news that
Chattanooga would now have a television station … WDEF-TV providing local programming as well as network programs from CBS and NBC.The first broadcast, of course, was merely a test pattern. For at least two weeks, anxious Tennessee Valley households tuned their brand-new television sets into Channel 12, and were greeted by an Indian head with various gradations of grey, and a voice announcing the coming station, and that this was a test broadcast. You'd have thought that test pattern would win an Emmy.For the first time since there was TV, local residents wouldn't have to strain to pick up grainy Atlanta stations. It was the talk of the valley.
Viewers from all over the tri-state area wrote in to tell our engineers that they were picking up the signal, and would let them know what the quality was like. Some letters surprised our engineers more than others … such as the Knoxville lady who was able to pick up our signal using only "rabbit ears". Television in Chattanooga was now a reality, and things would never be the same.
The first studios were located in the Volunteer Life Insurance Building, and the power output was 105,000 watts.
Local programming would be Drue Smith's House Party, Miller Brothers' Style Show, and Henry C. Geiger's Children's Gospel Hour. Other local shows included the children's variety show, Mr. Chickaroonie, Luther Masingill, Sports Review by Herschel Nation, Drue Smith's Party Line, the Weather Report by "Big Jim" Hill, world news by Mort Lloyd and Scenic Land News by Hal Seigel.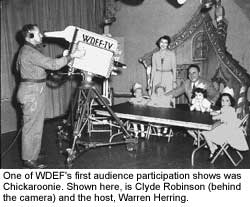 Network programming would include the Colgate Comedy Hour, Jack Benny, Milton Berle – Bob Hope, I Love Lucy, Red Buttons, Judge for Yourself, Eddie Fisher, Arthur Godfrey and His Friends, and I've Got a Secret.
With WDEF radio since 1941, Luther Masingill joined the staff of WDEF-TV. Luther had vowed to keep up his shenanigans in TV as he had in radio. A staple of morning radio for over a decade already, Luther would bring his wit and warmth to television. Things like Chickaroonie, Mabel and "Stay in your own lane" were all "Luther-isms". Luther was a stunt-master in radio. He was a source of diversion and amusement to Chattanoogans who listened to him. For one radio contest, Luther agreed to serve as yardman and man of all chores around the house of the winner. He admits he didn't work hard. For another occasion, he was rolled around in a wheelbarrow at the front of a parade by WDEF announcer Ernie Feagans. And ever-so-often, he just wouldn't even show up at the studio, broadcasting his show from "home", wandering around the rooms listening to the crackling of bacon as Mrs. Mary Masingill cooked, or chatting with younger brother Charles.
One of the first locally-produced shows on WDEF-TV was Point of View. Still on the air, it is one of the longest-running local public affairs programs in the United States. Other shows such as Drue Smith's House Party and Party Line were popular with viewers, for their innovative style and fresh attitude.
The 1970s brought change to TV news. WDEF was no longer the only television station in town, but it was certainly the leader. With a team of seasoned broadcasters, and a brand new tool … videotape … Channel 12 was able to bring the Tennessee Valley the latest news, accurately and quickly. Mort Lloyd was in the center of it all. An unlikely hero in the world of TV, Lloyd was one of the most respected faces (and voices) in broadcast journalism.
The history of WDEF-TV is a rich and colorful one. From important leaders to strange personalities (even a wrestler or two), they have all wandered these halls over the years.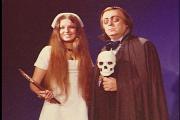 ---
Luther Masingill passed away in October 20, 2014, at the age of 92. Known to many of Chattanoogans simply as "Luther", the iconic Masingill first sat down behind the radio microphone on December 31, 1940. He personally signed on WDEF Television in April of 1954, and over the decades, informed and entertained generations of listeners and viewers alike with a charm and grace unique to him alone.
"Luther" was recognized nationally by his colleagues in the broadcast industry, having received two Marconi Awards, induction into the National Radio Hall of Fame, the Tennessee Radio Hall of Fame, and a host of other honors. "Luther" was also the longest running broadcaster in the history of the world, having been on the air – live – during both the Pearl Harbor Attacks in December of 1941, and the terrorist bombings of September 11, 2001.
In his more than 70 years of on – air service to his community, "Luther" never failed to help those in need, be it through finding a lost pet or raising money to help rebuild after a fire.
Here's a look back at the career of Luther.
Part 1:

Part 2:

Part 3:

---
The news set for WDEF was redesigned and rebuilt in October, 2018. News 12 took the opportunity to look back at the history of News 12 and the sets that were used over the years.
Part 1:

Part 2: