Barn fire battled by Sale Creek Firefighters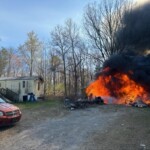 CHATTANOOGA, Tenn. (WDEF)- Sale Creek firefighters  battled a barn fire on Saturday, March 11th.
Officials say they received a call in the afternoon from the seven-hundred block of cottontail lane.
The caller explained that a barn was on fire with several cars inside.
Firefighters worked quickly to contain the fire from spreading to an adjacent mobile home.
The barn and all the cars inside were destroyed.
No injuries were reported.