Bill would lower Tennessee's age of criminal responsibility from 18 to 17
Hamilton Co. District Attorney in favor of the change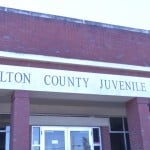 CHATTANOOGA, Tenn. (WDEF) – Hamilton County District Attorney, Coty Wamp, is actively supporting a bill that would lower the age of criminal responsibility in Tennessee from 18 to 17.
Although the bill is receiving some support, trial attorneys and a juvenile court judge are in opposition of the change.
House Bill 1029 and Senate Bill 1159, would send 17-year-olds, charged with any crime, straight to adult criminal court.
These same charges would apply for 13 to 16-year-olds who commit serious crimes as well.
Georgia, Texas and Wisconsin currently have the age of criminal responsibility set to 17 as well.
The bill is scheduled to be heard by the House Criminal Justice Committee and the Senate Judiciary Committee on Tuesday, March 21st.