Chattanooga Fire Department hosts advanced life-saving training course for the region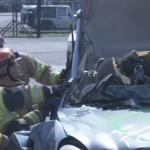 CHATTANOOGA, Tenn.(WDEF)- Sixty firefighters among 16 different agencies made their way to Chattanooga this weekend for an extrication class that is vital to saving many lives.
"When you have a vehicle, you know, collision, and if somebody is pinned in, they can't come out and get out. Then we have specialized tools to where we can pop the doors, nobody can cut the metal and stuff like that to where we're taking the metal away from the patient to remove the patient safely out of the vehicle," said Chattanooga Fire Department Lieutenant Chadd Nichols.
This event is the first in person training session since 2018.
Planning for the event itself takes months of preparation and help from different local businesses.
"We have about 60 cars, and all those cars come from a local place downtown. A lot of logistics goes into this, like I mentioned Yates Wrecker was here as well. So just setting all of this up and getting all these cars on site. But also like Jaws of Life, you know, the reps are here with all their tools. So a lot of equipment comes in this as well, where we couldn't do it just an organization, we have to have those outside agencies come assist us as well. So a lot goes into it," said Nichols.
The Lieutenant explained that for their training session this weekend, the instructors had a combined 250 years of experience.
"We teach them to simple techniques, but like the class this weekend is all about a little bit more of an advanced level. When we start thinking outside the box we have cars are on their top and we have to go in through the through the trunk we know when the tunnel when that's one of our pits here, behind me, you see we have a car that's been rested on a jersey barrier. It's a little bit more advanced techniques where we have to do more advanced stabilization to gain access into that patient," said Nichols.
He said that it is important for all of the agencies to learn to respond together being that if one is unable to make it to an incident, the other will step in.
"The importance of it is because we all respond together, we're part of the tri-state mutual aid association. So just because we may get a wreck in Chattanooga, doesn't mean we might not call Red Bank for assistance or East Ridge for assistance. So, having all of us on site and know how we need to go together, you know, taking the training and put it into a live you know, saying it helps out when we all understand we're on the same level and understand our techniques," said Nichols.
Looking ahead, the fire department plans to continue these training exercises for many years to come.