Chattanooga libraries kick off the start to their summer-time events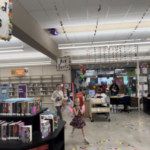 CHATTANOOGA, Tenn. (WDEF) – The Chattanooga Public Library kicked off the start to their summer-time events.
Each library said they have planned a packed schedule for the 2023 summer
Kick-off parties were held at four other branches throughout the city.
The celebrations acknowledge the start of CPL's annual Make. Play. Read. Learn. (MPRL) summer learning program.
MPRL 2023 features both reading and learning challenges that can be tracked through the Beanstack app or by hand.
Both children and adults can sign up for free at chattlibrary.beanstack.org or in-person at any library location.
Every year, participants earn badges when they complete challenges, and badges add up to fun prizes at the end of summer.
"We hope that it encourages Chattanoogans to come together as a community, both in our spaces and in other spaces throughout the city, and while maintaining their endurance for their reading and making sure that they're trying new things with new books," said Chattanooga Public Library youth services supervisor, Lyn Hunter.
The schedule for MPRL will feature popular programs from the school year, including STEAM programs sponsored by Thompson Engineering and food literacy classes supported by Blue Cross Blue Shield Community Trust.
There will also be special events this summer, such as a middle school book club, a teen summer skills class, puppetry and dance workshops, and a science and tech-themed reading program.
The Downtown Library will have YMCA's Food and Fun lunches all summer long.
The Chattanooga Public Library will also have a variety of fun ways for adults to participate as well.
In addition to year-round book clubs, craft and painting classes, and special LEGO events, CPL will offer a new trivia series at its Downtown Library, a new book club at Northgate, and a number of special events, including a Job Fair sponsored by Unum on June 3.
The Avondale Library will host their kick-off party on Wednesday, May 24.
The entire schedule of events can be found at chattlibrary.org/events.
For more information about CPL's library locations, other events, hours and more, please visit chattlibrary.org.