Chattanooga's Humane Educational Society hosts 70's themed gala called the "Faux Fur Fest"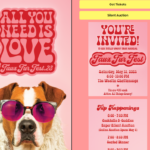 CHATTANOOGA, Tenn. (WDEF)- The Humane Educational Society of Chattanooga is hosting their first ever "Faux Fur Fest."
Beginning at 6 p.m., all 400 guests will arrive to the Westin Chattanooga in their best dressed attire from a different decade.
The 70's themed event is meant to help local animals, who are abused, neglected and need a place to call home.
Director of Development, Chris Atib, says they are hoping to raise a quarter of a million dollars to help support all the operations for the health and well being of the animals.
"We also have a lot of special needs cases and surgeries that we have to perform because we are a no kill shelter, so we'll hold animals, we'll keep them here, we'll do everything we can to find them a home. I kind of look at us like the Mayo Clinic of shelters. We have an incredible vet on staff here that takes care of our animals- does a lot of spraying and neutering almost all day long every day, but really it's just really promoting our organization and that there are still a lot of animals here in our Chattanooga area," said the Humane Educational Society's Director of Development, Chris Atib.
The shelter's silent auction does not end until May 14th at 5 p.m..
Money raised from the auction will be donated to the Humane Educational Society, so they can continue saving the lives of homeless, lost, abused and neglected animals within in our community.
You can follow the link to the auction page here.