Dade Co. deputies arrest a man with a felony warrant via car chase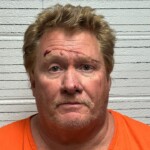 CHATTANOOGA Tenn. (WDEF) – On Friday night, Dade Co. deputies were advised that the Fort Payne, Alabama Police Department and the DeKalb County, Alabama Sheriff's Office were in pursuit of a mini van headed toward Dade County.
Dade Co. units waited at the state line, while the Trenton Police Department deployed spike strips at the nine mile marker off Exit 4.
Units observed while the fleeing vehicle entered into Georgia.
The driver, Ronald D. Sever of South Carolina, continued to flee from law enforcement at speeds around 90 mph.
Once getting off the Rising Fawn exit, the driver intentionally struck multiple police vehicles.
Once entering a local gas station parking lot the combined units stopped the vehicle.
The driver was taken into custody where officials learned of the driver's active felony warrant out of Virginia Beach, Virginia.
The warrant was for a probation violation, from charges for producing child pornography, failing to follow Virginia's sex offender laws, and sexually assaulting two girls.
The man was also convicted of sexual assault in Colorado in 1996.
Sever was charged with Felony Fleeing and Aggravated Assault on a Police Officer, Speeding, Reckless Driving, Failure to Obey Stop Sign and Driving While License Suspended.
Sever is currently being held until extradited.