EPB works to restore power outages following storm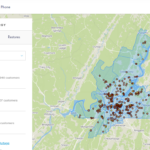 CHATTANOOGA, Tenn. (WDEF)- Following a storm with high winds that swept through the Chattanooga area early Saturday morning, EPB is continuing to restore power.
Roughly 5,309 customers are experiencing outages as of 4:30 p.m..
EPB has been able to prevent lasting outages by the use of a Smart Grid.
More than 7,000 other customers have already had their power restores by way of manual repairs since early this morning.
EPB is bringing in 580 utility workers to help repair Chattanooga's power systems by tomorrow.
They reported that damage to power lines, utility poles and other infrastructure is substantial, so they would expect to continue restoration efforts throughout the weekend.
They are also warning people to stay away from downed power lines and poles.
Those who come across something like that can report it by calling EPB at (423)648-1372.