Firefighters rescue rock climber stuck on the side of Lookout Mountain's Sunset Rock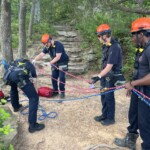 CHATTANOOGA, Tenn. (WDEF)- Firefighters came to the rescue of a rock climber in trouble on the west side of Lookout Mountain.
Chattanooga Fire and Lookout Mountain Fire personnel responded to Sunset Rock on Sunday morning.
The 24-year-old climber got stuck on the side of the cliff and was hanging by a rope.
First responders located him from above and conducted a high angle rescue.
He was descending the rock face and didn't bring enough rope. He was not injured.
CFD Squad 1, Squad 20, Quint 14, USAR 1 and Battalion 1 Blue Shift responded.
The Chattanooga Fire Department and trains on rope rescues regularly, so they are prepared to respond incidents like these.