Walker County receives $4.81 million in grants, plans for new playgrounds and more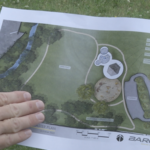 CHATTANOOGA, Tenn. (WDEF)- A small town just on the outskirts of Chattanooga received $4.81 million in grant money for specific projects across Walker County.
"What we have envisioned is taking this green space and really making it into some sort of community gathering location," said Joe Legge, Walker County's Public Relations Director.
The money will support projects at the Rossville Recreation Center, the Lafayette Multisport Recreation Park, the Chattooga River Greenway, as well as the John Ross Commons.
"We have always looked at this site, this location of Walker Co. as an area that has huge potential because it is one of the areas that is growing the most. We have about 1,000 new homes that are going in just over in that direction, and those individuals are going to need places for their families to gather and play and have a good time," said Legge.
The goal is to utilize the space throughout the area to create playgrounds, splash pads, walking trails and more.
Joe Legge with Walker County, says all of the building sites are full of potential, and this is only the beginning.
"The word potential has been used so much with this location. Like it has so much potential and it's just not being utilized. What can we do to really start capitalizing on that," said Legge.
The county official said the city is rapidly growing and they want to utilize the space they already have.
The success of the park is a test run, meant to lay the groundwork for potential sites and additions.
"This is really something that could be a catalyst for future growth in the Rossville, Northern-Walker Co. community," said Legge.