Hamilton Co. Mayor announces interest in 11 acres of Bluecross Blueshield land for a new public school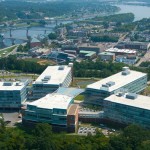 CHATTANOOGA, Tenn. (WDEF)- On Sunday, Hamilton County Mayor, Weston Wamp, announced the county's interest in the 11-acre "Golden Gateway" site being sold by BlueCross BlueShield of Tennessee.
The plan is to develop it into a next-generation public school campus.
Hamilton County Mayor Weston Wamp said, "A generational investment in public education in the heart of downtown Chattanooga would send a powerful message about our priorities as a community, while also providing for future growth."
Hamilton County's interest in the site for educational purposes follows the school system's recent focus on saving taxpayer dollars through adaptive reuse of existing facilities
Leaders at the Regional Planning Agency have advised county officials they should expect signicant residential growth in the downtown area to continue, necessitating more capacity at local schools.
The concept has already received a wide variety of support from community leaders…