Locally famous, Chattanooga Market, kicks off opening weekend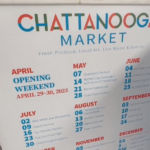 CHATTANOOGA, Tenn. (WDEF)– The locally famous, Chattanooga Market kicked off the start to their season on Saturday at the First Horizon Pavilion.
Local businesses from all across the area were in attendance, as well as food trucks and even a live band.
One local business owner, known by many with a sweet tooth, said it's their 9th year back to the pavilion.
"It probably hasn't been as busy as we anticipated it was going to be today. Tomorrow however, is Sunday, which is the locals come on Sunday. It's part of our community, and we've become part of the community. We have people who come to us every year, and this is our booth and this booth has been ours for quite some time now," said Candy Meck, Simply Southern Bakery owner.
There was something for everyone at this event, whether you tried on locally made jewelry, wanted your face painted, chose to sample some locally crafted foods or even got a caricature drawn.
The event will be held all the way through the last weekend in November.
Click here to see the full calendar of this season's events.