Old Navy promotes 'kids safety' at their annual event benefiting the National Center for Missing and Exploited Children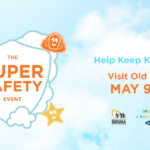 CHATTANOOGA, Tenn. (WDEF)- Hamilton Place Mall's Old Navy hosted their annual Annual Kids Safety Event Saturday from 1 p.m. to 4 p.m. to benefit the National Center for Missing and Exploited Children.
The store has been actively promoting 'kid safety' since May 9th, but the 13th was their interactive, activity day.
There were giveaways, snacks, games, and safety education information for all to pass along.
Old Navy assistant manager, Ashley Irvin, explains how these issues are happening close to home, and that we all have the opportunity to make a positive difference.
"Right now in Tennessee, we have 107 reported kids missing, and seven of those are located in Chattanooga. We have one in Cleveland , Tennessee, so it's like right near us. So the biggest thing is trying to raise money for these nice folks at the national center for missing and exploited children, so they can continue doing their work," said Ashley Irvin, Old Navy assistant manager and community leader.
Their donation drive will run through the 15th for those who wish to make a donation in store.
The assistant manager posted to her Facebook account stating that if you could not make it in store to support the organization, she would donate for you through her Venmo account @Ashley-MarieIrvin.
To donate directly to the organization, you can visit the website here.