Orchard Knob launches event where law enforcement and community members are able to create a personal relationships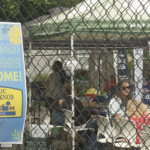 CHATTANOOGA, Tenn. (WDEF)– On Saturday, from noon to 4 p.m, Orchard Knob was a hub to celebrate community and personal connections made between neighbors and law enforcement within the Chattanooga area.
Connected Communities launched their pilot program with food trucks, live music and vendors.
There was even a basketball game between firefighters and local police.
TVA, The Enterprise Center, Parkridge, Historic Orchard Knob Neighborhood Association, Habitat for Humanity, green|spaces and Chatt Design Studio were the local organizations behind this initiative.
"They can go out and make sure that they have relationships with law enforcement firefighters and all of that as well. Doing some non-emergency type of relationship stuff so that they don't only see them in a time of emergency, but have a relationship with them on an ongoing basis," said Freddie Brooks, Project Coordinator with Orchard Knob Collaborative.
The goal of this event is to eliminate barriers between law enforcement and communities, creating a stronger and healthier bond between with the people who work to keep the community safe.