Rock the Riverfront invites guests to "get up and move"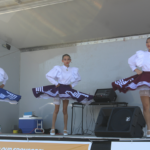 CHATTANOOGA, Tenn. (WDEF)- Rock the Riverfront encouraged lots of movement in downtown Chattanooga today for it's second weekend back to the Riverfront.
"Get up & move" was the theme for this Saturday's events.
Anyone and everyone could attend, and all of the events were free of charge.
There were six different events that people could choose to get moving to.
Starting the day off strong, a yoga class took the lead at 11 a.m., which was then followed by two Latin dance classes until 3p.m..
At 3:30p.m. people could partake in a hip hop dance class, or at 5p.m., they could even learn to salsa.
The evening ended with a with a Brazilian martial arts dance class called 'Capoeira.'
Next Saturday, April 1st, people are encouraged to attend the 2nd annual "Light Up Chatt" Parade.
As always, Los Trompos will be up and running throughout the week for kids, or big kids, to play or relax on.