Rock the Riverfront kicks off their 31 day event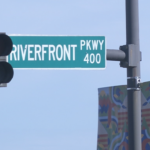 CHATTANOOGA, Tenn. (WDEF)- St. Patrick's Day 2023 marks the opening day of Rock the Riverfront put on by River City company.
For the second year in a row, the free of charge festival is taking over downtown Chattanooga with live music, family activities, art vendors and more.
Opening day was rainy and cold, therefore welcoming only 15 vendors out of a typical 20 to 40.
Last year the event caught the attention of many with their massive see-saws. This year, they are trying out a new and unique art installation called "Los Trompos," which look like large spinning tops.
The theme of the first weekend focused on creative's and culture, highlighting South and Central America. The second weekend is "get up and move" themed, so there will be free fitness and dance classes.
This event is not only enjoyable for community members to join in on, but it is also beneficial for all of Chattanooga's locally owned businesses as they saw $1.5 million dollars in economic impact last year.
This event will take place in downtown Chattanooga over the next 31 days, but the vendors, food trucks and live music will only be at the event Fridays, Saturdays and Sundays.
You can learn more about the event on their website here.