'Rock the Riverfront' will grace downtown Chattanooga on St. Patrick's Day
Los Trompos as the 2023 art instillation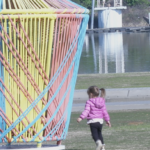 CHATTANOOGA Tenn. (WDEF) – After a successful first year in downtown Chattanooga, River City Company is bringing back, "Rock the Riverfront," for an entire month.
"Last year was the first year. We had over 33,000 people come down to riverfront district to enjoy art culture and entertainment," said Dawn Hjelseth, River City Company's Vice President of Marketing and Communication.
For the second year in a row, "Rock the Riverfront" will take over downtown Chattanooga with live music, family activities, art vendors and more.
"The Rock the Riverfront event really came from our community planning process called One Riverfront, and we heard from the public that they wanted something different, they wanted something free for all ages to enjoy that they wanted to highlight Chattanoogan music and artists," said Hjelseth.
Last year, the event caught the attention of many with their massive seesaws. This year, they are trying out a new and completely different art installation.
"This year we have 'Los Trompos.' It's an installation created by two Mexican artists, and they are giant spinning tops based off of a game that's played in central and south America called 'Trompos,'" said Hjelseth.
The tops of 'Los Trompos' are created by fabric woven in traditional Mexican style. This fabric is stretched over the modules to create a cushiony trampoline like surface.
"You could also just lounge on them if you wanted to, and so it's really something that all ages can enjoy," said Hjelseth.
All day Thursday, crews worked to transform the Chattanooga Green Park off of Riverfront Pkwy into a space for all the different activities to take place.
"Every weekend is really something different. Opening weekend is all about our creative's and culture. The second weekend is get up and move, and so we have fitness and dance classes all throughout the day. We're going to have an Easter egg hunt and of course the second, 'Light Up Chatt' Parade," said Hjelseth.
This event is not only enjoyable for community members to join in on, but it is also beneficial for all of Chattanooga's locally owned businesses.
"Last year we also realized that it was bringing a lot of people to downtown, so we talked with our local businesses and they actually saw $1.5 million dollars in economic impact from the event," said Hjelseth.
St. Patrick's Day, otherwise known as opening night, will feature live music by DJ Corleone Tone from 5 to 7 p.m.
"It is a 31 day event. We know some days are going to be rainy or cloudy. There may be some rain on opening day. We're going to try our hardest to be down here with DJ Corleone Tone and all of our food trucks and vendors. Stay tuned to our website, Facebook and Instagram for updates if mother nature does not cooperate with us, but we are excited that the rest of the weekend is going to be bright and sunny," said Hjelseth.
You can learn more on their website here.