Rock the Riverfront's 2nd annual 'Light Up Chatt Parade'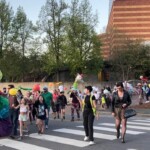 CHATTANOOGA, Tenn. (WDEF)-
The 'Light Up Chatt Parade' took over downtown Chattanooga, on both sides of the river.
For it's second year in a row, Rock the Riverfront hosted about 200 parade participants.
Residents all across Chattanooga made lanterns and giant puppets to walk with.
It all began at Renaissance Park, and from there, they made their way across Market Street Bridge and back to the Chattanooga Green off of Riverfront Parkway.
"The 'Light Up Chatt Parade' is really a unique parade. Usually in parades you have cars and bands, well this one is all about puppets and creation, and so , anybody, any age can participate in this parade as well, and so we have families that have been building puppets together that will walk across the bridge and end here at the Chattanooga Green," said Dawn Hjelseth, River City Company's Vice President of Marketing and Communication.
This coming Wednesday and Thursday, Rock the Riverfront will host Spring Break Family Fun Days from noon to 4p.m.. There will be face painting, balloon animals, kites and much more.