Signal Mtn. Police Department hosts bike event/rodeo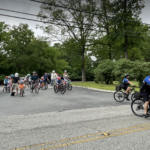 CHATTANOOGA, Tenn. (WDEF)- The Signal Mountain Police Department and the White Oak Bicycle Co-Op hosted a bike event on Saturday.
People were able to attend a bike ride with the SMPD that ended with a rodeo.
Attendees had the opportunity to ask questions about bike safety, get helmets fitted and learn about basic bike maintenance.
Firefighters helped with the rodeo course for those that stay to participate.
The bike ride began at 10:00 a.m.. Members of the Signal Mountain Police Department escorted the
community along a 1.5-mile bike ride within Old Towne.
If you did not have a bike or helmet, the department would provide one for the event.