'Strides of March' returns to Chattanooga for it's 28th year
Chattanooga community comes together at Renaissance Park to end HIV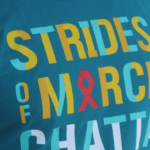 CHATTANOOGA, Tenn. (WDEF)-  'The Ides of March," usually refers to the 74th day of the calendar year, which lands around March 15th.
Today, Cempa Community Care held their annual "Strides of March" walk in the fight against HIV and AIDS.
For the 28th year in a row, crowds gathered in downtown Chattanooga at Renaissance Park for the fundraiser.
The event helps to raise awareness and money for Cempa's efforts to reach the undeserved community about HIV.
"While the AIDS epidemic is not what it once was, and we're very lucky we're not living in that world anymore, it's so important to raise awareness. Tennessee, Chattanooga and Hamilton Co. actually have higher rates of HIV than the rest of the country. We like to raise awareness and also raise money to support Cempa Community Care," said Miles Huff, Cempa Community Care's director of community engagement.
The sky was blue, the sun was shining and many locals joined together to make a positive difference.
They even had vendors set up in their own tents along a part of the grassy area.
"We had lots of local vendors that were out here supporting local businesses and just an amazing group gathered around our cause," said Huff.
As of Saturday evening, they raised just under $51,000 towards their goal of $65,000.
To support the cause you can donate here.