The Chattery hosts their first ever self-care market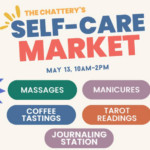 CHATTANOOGA, Tenn. (WDEF)- From 10 a.m. to 2 p.m. on Saturday, a local non-profit organization hosted it's first ever self-care market.
Just off of Rossville Blvd., locals experienced a few of the many different activities self-care has to offer.
Whether guests received a pedicure, manicure or massage, they were almost guaranteed relaxation.
People were able to experience the 'journaling station' or even receive a tarot card reading.
Co-founder of The Chattery, Shawanda Mason, says that, as an entrepreneur- she has to remind herself to slow down from time to time.
"I think it's going to bring just a moment of clarity in that it's okay for us to slow down. If we can provide a block of time where you can show up, it's free to attend and just allow people to sort of take on their own self care journey in their own experience, and that's what we want to do," said Mason.
The organization was founded by women and is a Black-led nonprofit organization dedicated to "cultivating an expansive community of learners and teachers through fun, affordable and accessible learning and art experiences for adults."
Mason says this was their first event of this kind, and she hopes it's not their last.