Weather Update: Wednesday Night's Forecast – June 29th, 2022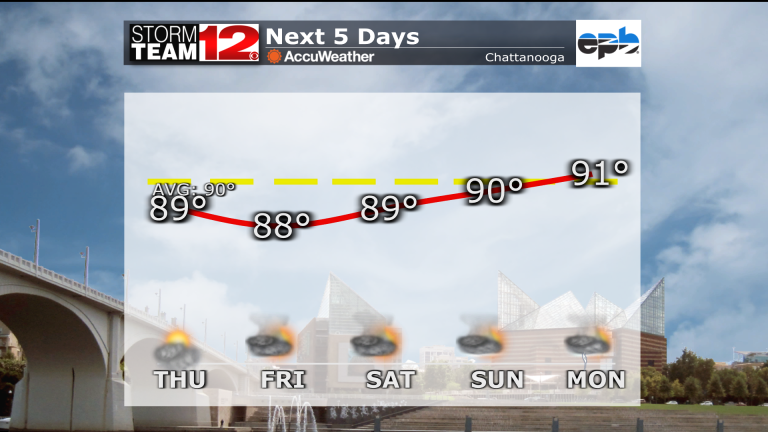 Tennessee Valley (WDEF):  Typical Summer Weather Will Be Here For A While!

Some leftover clouds, but dry, warm, and muggy through the nighttime.  Overnight lows only around 70.
Partly sunny, very warm, and humid for Thursday with isolated PM showers and storms popping up,  Highs will be back in the upper 80s.
Warm and muggy again Thursday night with any stray showers diminishing.  Lows around 70.
Very warm and humid again for Friday with isolated PM showers and storms during the heating of the day.  Highs back in the upper 80's.
Extended Forecast: More typical Summerlike weather is expected through the upcoming Independence Day holiday weekend.  Isolated afternoon and/or evening showers and thunderstorms will likely be popping up each day with highs around 90 and lows between 70-72.
Typical Summer weather is here!
Try to stay cool and make those preparations to stay safe from the heat! Just a few of those precautions:
1) Wear loose-fitting, light-colored clothing. Avoid dark colors as they attract more heat.
2) Try & limit strenuous outdoor activity to the early morning hours.
3) Take frequent breaks, preferably in shaded areas.
4) Stay properly & thoroughly hydrated. Hydrate well in advance of outdoor exercise or work.
5) Do NOT leave children or pets in your car – not even for a few minutes.
6) Bring your animals inside if possible – if not, make sure they have a proper supply of cool water and shade.
7) Check on your elderly friends and neighbors and help them avoid heat-related issues as well.
8) If you're grilling outside or camping, use extra caution on those fires! Our fire danger is very high, and remember:  Outdoor fires usually double in size every sixty seconds! Also, when cooking or around a campfire outdoors, please make sure you have a fire extinguisher nearby.
Normal lows and highs are 70° and 90°.
Make sure you & your family stay in touch with us. Remember the Storm Team 12 app can always bring you the latest weather alerts for your location as well as Titan Radar. Download it for free from your app store – just search "WDEF Weather".