A health scare turned her into a health coach
This is paid content. It was written and produced by CBS Interactive's branded content studio in collaboration with the sponsor.
---
The Saturday morning farmers market in New York City's bustling Union Square is a kaleidoscope of sights and sounds. Vendor tables teem with bright red tomatoes, dark purple beets and artisanal baked goods. This is June Zhang's happy place.
The farmers market has long been a part of her weekend ritual, the result of a commitment to health and wellness she made to herself years ago — and a function of her more recent entrepreneurial endeavor. Zhang is in the early stages of growing her online business, Healthy with June, where she offers clients her expertise as a certified health coach and personal trainer.
"I reached a point where I had enough people coming to me asking for advice about their own health and wellness to realize, 'Hey, I know what I'm talking about and I've helped people already,' Zhang explains. "Why not make this a bigger thing where it could help more people?"
CBS News
Zhang hadn't always put such an emphasis on good health. As a college student, her lifestyle was much like, well, a college student's: She pulled all-nighters, ate junk food and to some extent took her well being for granted. But it took a personal health crisis to bring her life's mission into focus.
One morning in 2008, Zhang woke up with an extremely high fever. She called her parents to ask a question about which medicine to take, but they thought she sounded disoriented. Concerned, they drove two hours to meet her and took her to a hospital, where it was discovered her blood pressure was at dangerously low levels. Eventually, she'd be diagnosed with septic shock as the result of a rare strain of bacterial meningitis.
"They gave me a broad-spectrum antibiotic that somehow covered this really rare strain, which is why I'm still alive," she says.
After a month-long hospitalization, Zhang says her health began to change dramatically. She developed random food allergies, gained weight and experienced crushing fatigue. So she made a renewed commitment to her health by exercising daily, cooking wholesome meals and meditating.
"I started taking care of me," she says.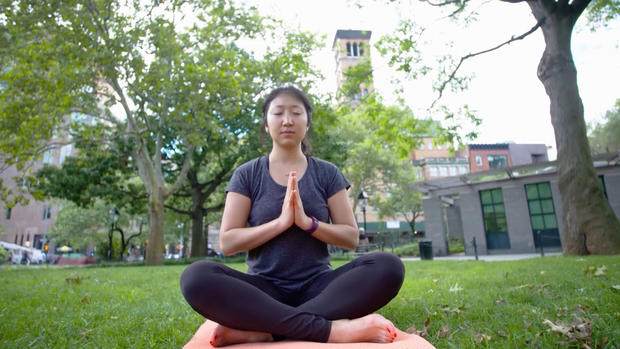 CBS News
Today, Zhang still has a full-time job in the corporate world. But she thinks one day her Healthy with June could change that. She's gotten many referrals from her current clients and hopes to continue expanding her practice as she relocates to Toronto from New York to be closer to family. She's even started thinking about creating a line of healthy snacks.
"I had a conversation with a friend recently and the way he described me was 'I like to make a soul-level connection with people,'" Zhang says. "I fundamentally care about people and really understand what makes them tick."
The producer of this story witnessed Zhang's generosity of spirit first-hand over lunch on the day of filming. She fielded questions from the camera crew ranging from triggers for unhealthy snacking, keys for a good night's sleep and tools on finding a better work-life balance. She engaged on an intimate, personal level with each person.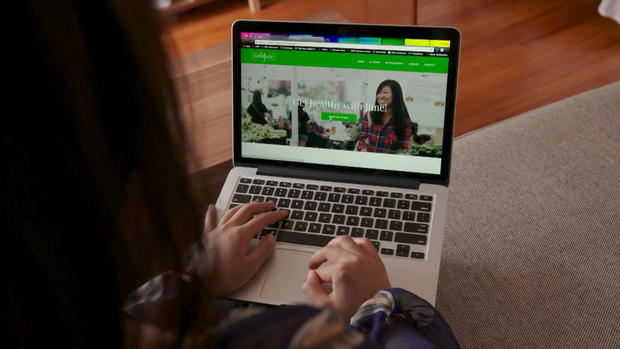 CBS News
"That's always been a part of who I am as a person, the way I make one-on-one connections," says Zhang. "And it just so happens that health and wellness is an area where I have a lot of expertise. I think bringing those two things together made Healthy with June come to life."
© 2018 CBS Interactive Inc. All Rights Reserved.