Boy missing part of his arm gets 3-D printed "upgrade"
NEW YORK — A third grader from New York City is finally able to shake hands thanks to his new prosthetic arm made entirely with a 3-D printer.
Just a few weeks after 9-year-old Jeremy Seacott of Staten Island got his first prosthetic arm he's mastering the little things like picking something up off a table.
"Just doing things that we take for granted I think was really cool," Jeremy's mother Janet told CBS New York.
Jeremy was born missing part of his right arm. While he has no trouble showing off his favorite dance moves without it, he says the new addition has made life a little better.
"I feel like I just got an upgrade," he said.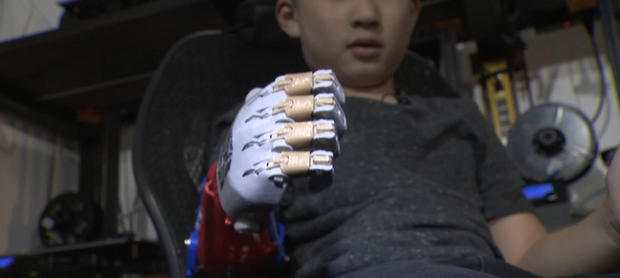 CBS New York
The upgrade came courtesy of Michael Perina. He owns Assembly 3-D Printing on Staten Island and partnered with e-Nable, an organization which connects volunteers using 3-D printers with people who need prostheses and provides the blueprints for making them.
"It's my favorite project that I've ever done," Perina said.
Printing out all of the parts for Jeremy's new arm took about 20 hours. The third grader ended up with not one but two of them, one of which was custom painted to match his skin tone. The other is modeled after his favorite Transformers character — Optimus Prime.
The prostheses were provided free of charge, and Perina says more will soon be in the works.
"It's wonderful that he has such an amazing heart and is able to do this and able to help other people," Janet said.
© 2018 CBS Interactive Inc. All Rights Reserved.