Chattanooga Police Department warns about drinking and driving on St. Patrick's Day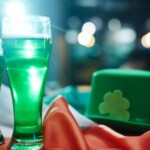 CHATTANOOGA Tenn. (WDEF) – Right up there with the Super Bowl and Halloween, St. Patrick's Day is to be one of the most dangerous holidays for hitting the roads.
On St. Patrick's Day, 41% of fatal car crashes are caused by alcohol or drug-impaired driving.
The Chattanooga Police Department is prepared to keep citizens safe and impaired drivers off  the roads.
On Thursday at 11:30 a.m., the Chattanooga Police Department hosted a press conference, in which they addressed the concerns about drinking and driving on the holiday.
"We recognize the holidays like St. Patrick's Day, they do bring out the more partier, ruckus crowd, and so, to address those issues we're going to, like i said, double down on our enforcement. We're going to also partner with our investigative side of the house and let the DUI unit those folks do their thing as well because we want everyone to be safe. Although we don't discourage going to the eateries and going to the local bars to celebrate St. Patrick's Day, we do so want you to do so responsibly," said Glenn Scruggs, the executive chief over neighborhood policing.
Chief Scruggs goes on to say that if you are going to go out and get a green beer with friends to make sure that you have a designated driver for the evening.
The police department assured that for the famous Irish holiday, officers will be stationed throughout major roadways in the city, increasing patrol and safety measures.