Galen Medical Group hosts Women's Health Fair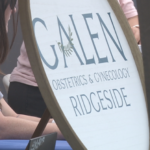 CHATTANOOGA, Tenn. (WDEF) – Galen Medical Group hosted a Women's Health Fair on Friday from 9 a.m. to 3 p.m. at their Hixson location.
Attendees received a goodie bag along with the option to participate in a free allergy and asthma screening and health coaching sessions- all tailored to women.
Those were also able to receive a free mammogram in the mobile mammogram van.
One woman with Galen Medical Group explains how this fair focuses on all aspects of the woman- whether that's the mind, body or soul.
"We wanted to make sure that we are looking at all of you and taking care of every aspect of every life stage that you're at. It's not just your clinical care- it's all of you," said Paulina Hartney, Galen Medical Group's Wellness Program Manager.
The manager says Galen plans to host many more health fairs- not only for women- but for everyone.