The Great American Divide, Pt. 1: How Did We Get Here?
The election 8 months away and much of the country finds itself in a division between Republicans and Democrats. But how did we get here? This is the first step of a four part-series to help understand the Great American Divide.
Try any social media platform these days and you're bound to see it. Political memes, statements, cartoons, insults, and accusations flying so fast it'll make your head spin. Ten years ago, politics was like religion or money – we didn't really talk about it all that much – but it is here now and it's getting more serious adversarial and intense by the day as election day, still eight months away, gets closer.
So how did this great division start? Well, it depends on who you ask.
Jim Hall, who served as the Chairman of National Transportation Safety Board under President Clinton, says "It's underlined a lot by racial and geographical divisions."
The pastor of the historic St. Paul's AME Church in Chattanooga, Reverend Kenneth Love, believes, "It really stimulated all the way back to I guess the election of President Obama."
"We've always had a political divide," says Kevin West, the Program Director for Cumulus Media.
Dr. Michele Deardorff is a Political Science Professor at the University of Tennessee at Chattanooga and it's her opinion that this most recent division started off well before President Trump took the oath of office.
She says, "In the mid 90's, we saw the Republican Party in particular under the leadership of Newt Gingrich do a winner-take-all no compromise perspective which was a very different way to see Congress work than it had in the past."
The political move helped Republicans gain control in the House and Senate but Gingrich wasn't done there.
Lee University Professor of Psychology Dr. Robert Fisher says, "The lawmakers in Washington used to actually move there. Bring their families there. They would work together, play together, but now they stay in their home districts and just come in periodically to do their work."
As Speaker of the House, Gingrich essentially shortened the congressional work week to three days by having roll call votes on Mondays and Fridays only whenever necessary, something that still exists today. The presidency of Barack Obama proved to be a turning point with momentum from a strong election showing Republicans knew they were up against a strong executive and tried to stop him whenever they could. They were successful except for two issues. The Affordable Care Act also called Obamacare and the Supreme Court decision that made gay marriage legal. Two Democratic triumphs that infuriated conservatives. Some say it might have been too much change too quickly.
Former State Representative, JoAnne Favors says, "There were so many people who wanted to see change occur that they really hadn't clearly defined what kind of change they wanted to see. So we went in several different directions with the Tea Party with the negotiations deteriorating between the two major parties. All of that contributed to this divide."
When 2016 came around not only were conservative lawmakers ready for a change back to the right, their constituents were as well. Donald Trump became President of the United States in a surprising outcome and came into office with Republican control of the House and Senate. It was as if the country had undergone political whiplash and this time it was Democrats that found themselves looking to stop the Republican agenda.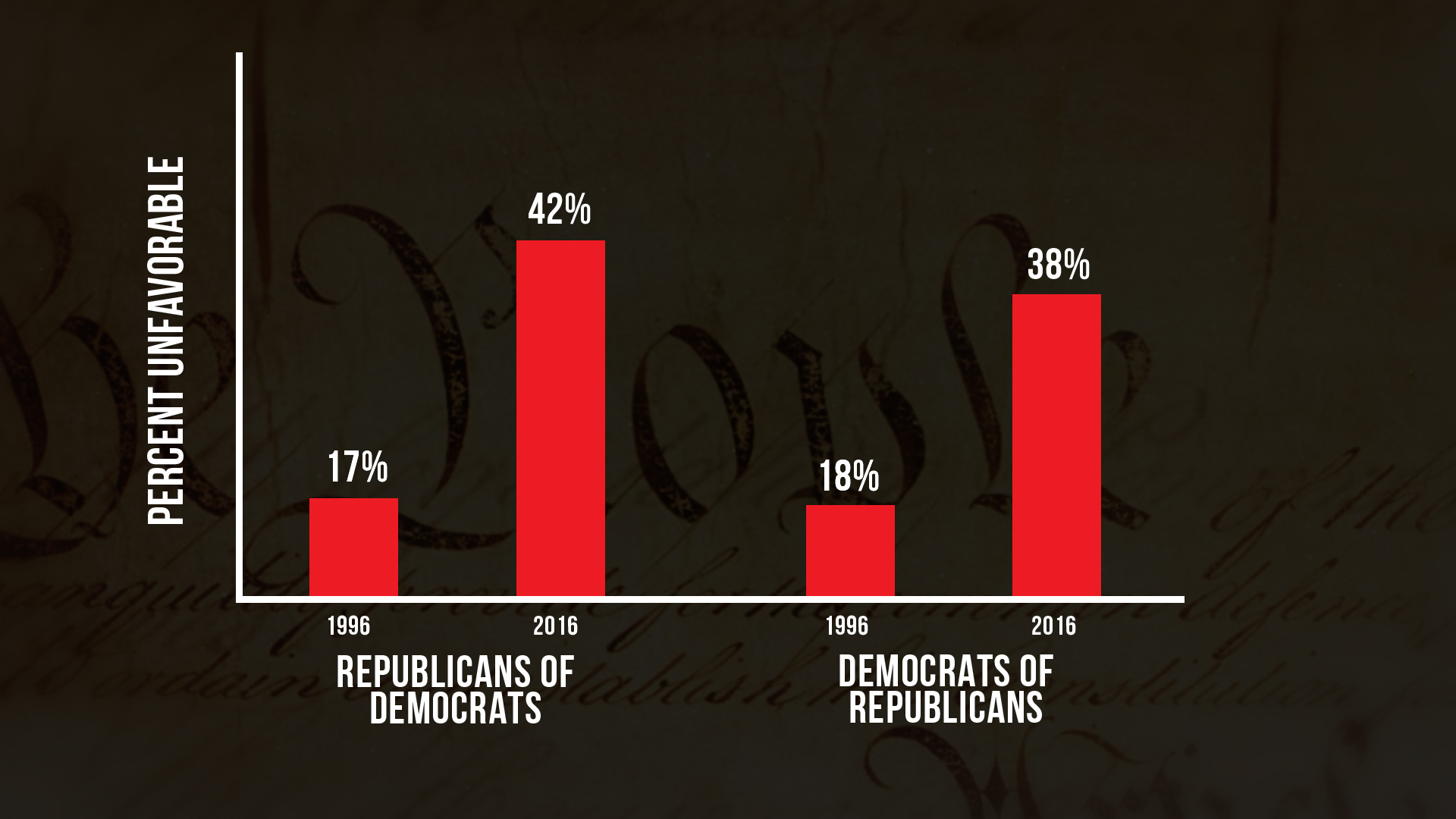 To see the political divide over time, a Pew research study asked Democrats and Republicans their opinion of the opposing party. In 1996, 18 percent of Democrats thought the Republicans were unfavorable in 2016. That number rose to 38 percent in terms of Republicans that thought Democrats were unfavorable. As a whole, that number jumped from 17 percent in 1996 to 42 percent in 2016.
Dr. Michele Deardorff concludes, "Before the 2016 election which means we know these numbers are even higher and more extreme now."