Greeks describe harrowing escapes from deadly fires
ATHENS — The Greek government hasn't given an official number of missing people on Wednesday as rescuers continue combing through the charred remains of homes around Athens. A pair of wildfires have left at least 79 people dead, and CBS News correspondent Seth Doane reports dozens are still believed to be missing.
In some places around the Greek capital the fires were still burning. Elsewhere people began returning to neighborhoods left unrecognizable.
Doane met Maria Nikolaou, 74, as she tried to start cleaning up on Wednesday. The fast-moving wildfire tore through her neighbhorhood, fueled by gale-force winds that created the deadliest fires in Greece in more than a decade.
A narrow escape
Her car was gutted, and in minutes her whole neighborhood was consumed.
"Trees were falling everywhere, I was so scared," she told CBS News. But still she had to be forced to flee her neighborhood.
Her son, Dimitris Gaveras, worries his mom would've died there had he not forced her to flee to the beach.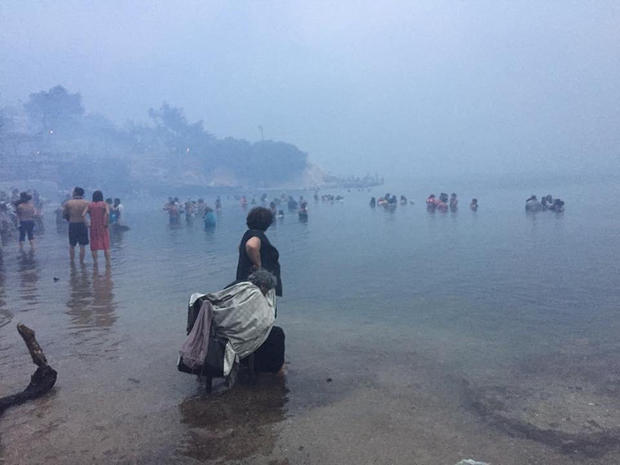 SOCIAL MEDIA/REUTERS
"I took my mother by force," he told Doane.
Along with hundreds of others, they did make it to the beach. Some when right into the sea seeking protection from the flames. Hundreds were picked up by passing boats.
What caused the fires in Greece?
The cause of the massive wildfires remains unconfirmed, but they started on Monday as Greece grappled with record-high temperatures and extremely dry conditions.
Some public officials have suggested that at least some hot spots might have been sparked by looters trashing houses and then setting properties on fire, but authorities say they are still trying to confirm the origins of the tragedy.
Gaveras says his family's little piece of paradise has been turned into a hellscape, in just a matter of minutes.
Hundreds of fire crews continue battling the flames, trying to prevent new hot-spots from spreading, and trying to avoid more tragedies.
Doane says one man has been appearing on local television and radio shows, making desperate appeals for information on his twin daughters, who are still missing. He is convinced he saw them in TV news video arriving at a nearby port amid the chaotic evacuation.
© 2018 CBS Interactive Inc. All Rights Reserved.