Haley calls out Russia, China for skirting sanctions against North Korea
UNITED NATIONS — At an urgent Security Council meeting called by the U.S., Ambassador Nikki Haley called out Russia and China for consistently skirting U.N. sanctions against North Korea, sparking an acrimonious dispute between the world powers ahead of a crucial summit over the North's nuclear program.
"Step by step, sanction by sanction, and time and time again, Russia is working across the board to undermine the sanctions regime," Haley said.
Haley called the Security Council meeting on Monday morning to allege Russia and China are evading U.N. sanctions against North Korea aimed at pressuring the regime to abandon its nuclear and missile programs. The U.S. has led the push to impose increasingly severe sanctions against the North's economy.
Diplomats from North and South Korea are currently meeting for a third time for talks about relations between the two countries. A South Korean delegation arrived in Pyongyang on Sunday to prepare for an upcoming inter-Korean summit between South Korean President Moon Jae-in and North Korean leader Kim Jong Un.
Richard Drew / AP
Haley told the council that "difficult, sensitive talks with North Korea are ongoing" about denuclearization following the meeting between Kim and President Trump in Singapore in June.
"But we are not there yet," Haley said. "And until we get there, we must not ease the powerful worldwide sanctions that are in place."
Haley, who holds the rotating Security Council presidency for the month of September, called the meeting to accuse Russia of engaging in a "cover-up" of its sanctions violations, saying the country is "cheating" and that the U.S. has "evidence of consistent and wide-ranging Russian violations."
U.N. Under-Secretary-General Rosemary DiCarlo told the council that "there continue to be signs the DPRK is maintaining and developing its nuclear weapons and ballistic missile program," adding that the International Atomic Energy Agency (IAEA) "remains unable to access the DPRK and verify the correctness and completeness of the DPRK's declarations under its safeguards agreement," referring to the Democratic People's Republic of Korea, the North's official name.
Last month, the IAEA expressed "grave concern" that North Korea is continuing to develop its nuclear program. The director general has offered to resume inspections that ended in the 1990s.
In July, the Trump administration sent evidence to the U.N. committee that showed that North Korea "breached" U.N. sanctions by surpassing the annual cap for refined petroleum products, according to documents obtained by CBS News.
Haley leveled the allegations at Monday's meeting after Russia pushed for changes to the U.N.'s independent report on sanctions violations. The report had been submitted to the Security Council in August, but it has been amended and not yet published.
With world leaders arriving in New York for the annual meeting of the U.N. General Assembly and a meeting between Mr. Trump and Moon set to happen next week, the U.S. and its allies are under pressure to make progress on North Korean denuclearization.
Both Russia and China have been pressing for lifting some U.N. sanctions to give North Korea a financial incentive to denuclearize. At the Monday meeting, Russian Ambassador to the U.N. Vassily Nebenzia responded to Haley's allegations, saying, "You reject any kind of a positive statement."
"Sanctions cannot replace diplomacy," Nebenzia said.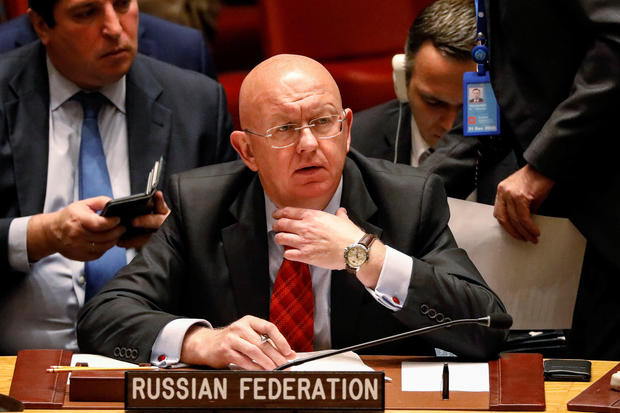 BRENDAN MCDERMID / REUTERS
China argued that sanctions alone will not force North Korea to denuclearize. China's U.N. Ambassador Ma Zhaoxu said tighter sanctions would result in a "dead end" and that "resorting to force will bring nothing but disastrous consequences."
After the Russian ambassador spoke, Haley replied that the country's strategy was to "deny, distract and lie" and that "lying, cheating and rogue behavior has become the new norm of the Russian culture."
South Korean Ambassador Cho Tae-yul told CBS News on Sunday that he hopes "a significant breakthrough can be made in the third inter-Korean Summit in Pyongyang."
Cho told the council that the road to dialogue remains open "to achieve the complete denuclearization" of North Korea, saying Moon and Mr. Trump are focused on that goal. But, he added, "the road ahead will be bumpy."
Japan's Ambassador Koro Bessho told council members that the world is "at a critical juncture" after June's "historic meeting between the U.S. and North Korea."
"We must not waiver," Bessho said. "Now is not the time to lift sanctions."
After the meeting, Bessho told reporters, "We should seize the opportunity to move forward."