Hamilton Co. to Offer Child Support Amnesty Week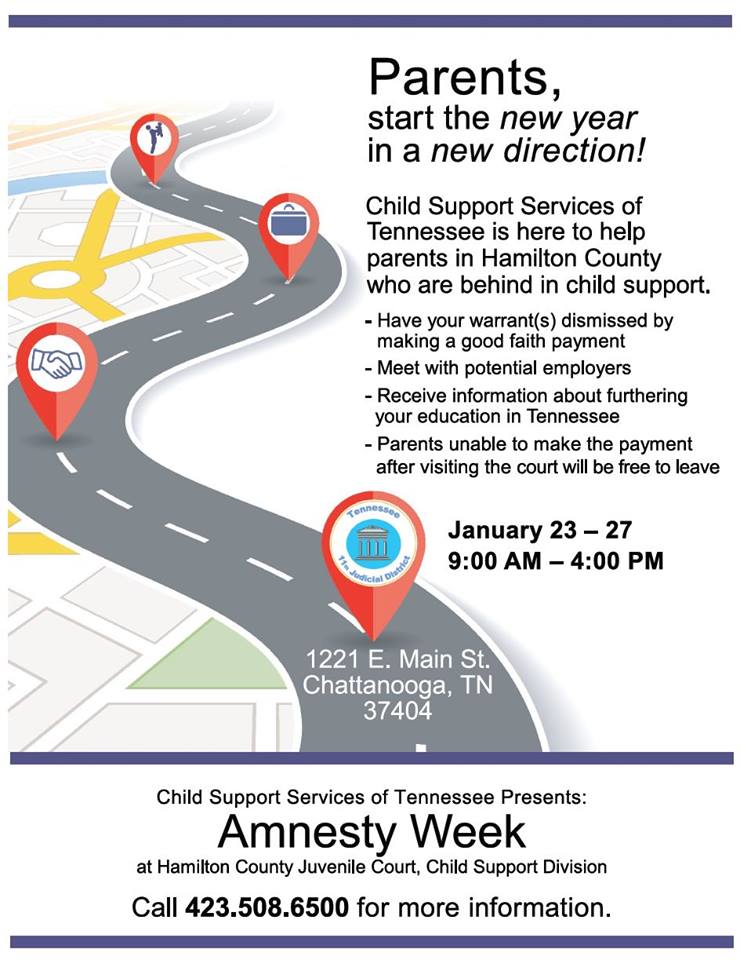 CHATTANOOGA, Tenn. (WDEF) — Hamilton County residents struggling to make child support payments can get help next week.
The County's Child Support Office is offering an amnesty week, which hasn't happened in about 11 years.
"This truly is a rare window of opportunity," said Judge Rob Philyaw, Hamilton County Juvenile Court.
Hamilton County Juvenile Court is teaming up with the state to offer an amnesty week for people behind on child support payments.
"They can actually come in without fear of being arrested on those attachments, and talk to some professionals about their situation," Philyaw said. "If they're able to make a good faith payment and work on some other things, it's possible those warrants will be outright dismissed."
Parents can also talk to potential employers and look at educational opportunities.
"Workforce development is going to be there with the job bus that has lots of information, as well as 10 computers and access directly for people to apply to jobs," Philyaw said.
There are close to 1,200 outstanding warrants for contempt actions in Hamilton County, many of them are old.
Philyaw says the best way to avoid any child support issues is to show up.
"A lot of people end up with these types of attachments out for their arrest in contempt matters where they were found in contempt in their absence because they failed to appear and state what their situation is, or otherwise defend the petition against them."
Even though Amnesty Week doesn't happen often, the court offers a monthly child support clinic for people with questions.
"The child support laws everywhere – and Tennessee's no exception – are complicated. They're busy. There are lots of laws, lots of regulations, and they're difficult sometimes, especially for the late person to navigate. 'What do I do if I lose my job? What do I do if my new job that I had to take pays me less than the job before?'"
In the end, the court just wants parents to do right by their kids.
Hamilton County's Child Support Amnesty Week will be January 23-27 from 9 a.m. to 4 p.m. at the Juvenile Court – Child Support Division on Main Street.
The Child Support Legal Clinic is held on the second Thursday of each month from 1 to 4 p.m. at the Juvenile Court on 3rd Street.