How stuffing your face became big business
Eating contests have moved beyond the county fair and become a multimillion-dollar industry, with thousand of events every year.
The industry's flagship competition, the July 4th hot-dog eating contest in Coney Island long-sponsored by Nathan's Famous, plays on ESPN to an audience around the world. But also this summer, a crowd will gather on Long Island, New York, to see who can eat eight pounds of Mexican food the fastest. (The menu typically consists of three tacos, three empanadas, two-and-a half pounds of nachos, a giant burrito and, not to deprive those with a sweet tooth, three churros.) Roughly a thousand miles away, in Cedar Rapids, Iowa, an annual festival brings out residents to devour bushels of kolaches, a traditional Czech pastry. And in August, dozens will descend on Buffalo, New York, to scarf down pound upon pound of chopped kale.
For the big-eaters out there intrigued by the idea of making a living doing what you love, consider yourselves warned: You better have the stomach for it.
For one, it's a pricey hobby. Competition can be fierce, typically for cash prizes that don't come close to replacing a full-time job. And it carries the very real possibility of choking to death, as well as potential long-term health effects that are still largely unknown.
Alex Wroblewski/Getty Images
Eat your heart out
Despite such challenges, the appeal of competitive eating seems to be growing. More than 4,000 eating contests of one kind of another are set to take place across the U.S., according to Eat Feats, a website that tracks eating competitions. That's a fivefold increase over the last decade. A handful of these, such as Coney Island's hot-dog eating contest and Philadelphia's Wings Bowl, have become famous, but the bulk of events are hyperlocal — and therein lies their appeal.
"There's very little at risk," according to John Stanton, a professor of food marketing at Saint Joseph's University. "No one can just say, 'I'm going to be an Olympic skier, I'm going to be a professional soccer player.' Virtually anyone can enter an eating contest."
Many contests grow out of local or regional specialties, but just as often they're dreamed up by brands looking to generate a little extra marketing. Because of the events' appeal to the desirable young male demographic, food makers are often willing to put up some prize money for what they hope will be an outsize return.
More food than funds
The proliferation of gorge-fests will draw thousands of contestants, but the number of eaters who can make a living chowing down can be counted on one hand.
"Just a handful of competitive eaters can subsist on competitive eating," Richard Shea, co-founder of Major League Eating, which sponsors 50 to 80 major eating competitions each year, told CBS MoneyWatch. "The balance of our league is people who can supplement their income."
The largest event staged by MLE, which ranks the top 50 competitive eaters in the U.S., is the Nathan's Famous hot-dog eating contest, which takes place in Coney Island every July 4. It's "the Super Bowl of eating contests," Shea said. Just as with the football event, people hoping to compete have to prove themselves on a smaller stage, placing in one of about two dozen regional qualifying events.
"Some competitors have an inherent ability, and others, it takes them a while to go to a bunch of contests and figure out how to work it," he said.
The top prize at a local competition can range from $2,000 to $5,000. But while entering is often free or just a few dollars, travel costs aren't covered, and they can quickly add up.
Maintenance costs are high
An aspiring contestant who works hard to prepare for the rigors of competition, scopes out local events, possibly entering a number of contests in an attempt to find his perfect food, can look forward to a life on the road — at least on weekends.
Many local contests are held in small towns that can be a challenge to get to. That's the experience of Gideon Oji, a competitive eater who won a Buffalo kale-eating contest in 2016 after consuming 25 bowls of the leafy greens.
"Sometimes it costs a lot of money," Oji said. "I've literally driven 18 hours to Iowa for a contest. I've driven to Texas from Atlanta. I've tried to figure it out — lot of these places don't have airports close by."
For one of Oji's first contests, a friend drove him nine hours from his home in Atlanta to Florida. They were so broke they were relying on the contest to cover the trip back. Fortunately, his third-place finish won him several hundred dollars — enough to cover the trip.
In between events, there's practice. Most serious competitive eaters stuff themselves semi-regularly to stretch out their stomach and get used to holding large quantities of food. (That's despite Major League Eating official disapproval of practicing.)
"If you want to be a better eater, you don't have a choice," said Ed Jarvis, a retired competitive eater who lives on Long Island. "The only way you get good at something is practicing."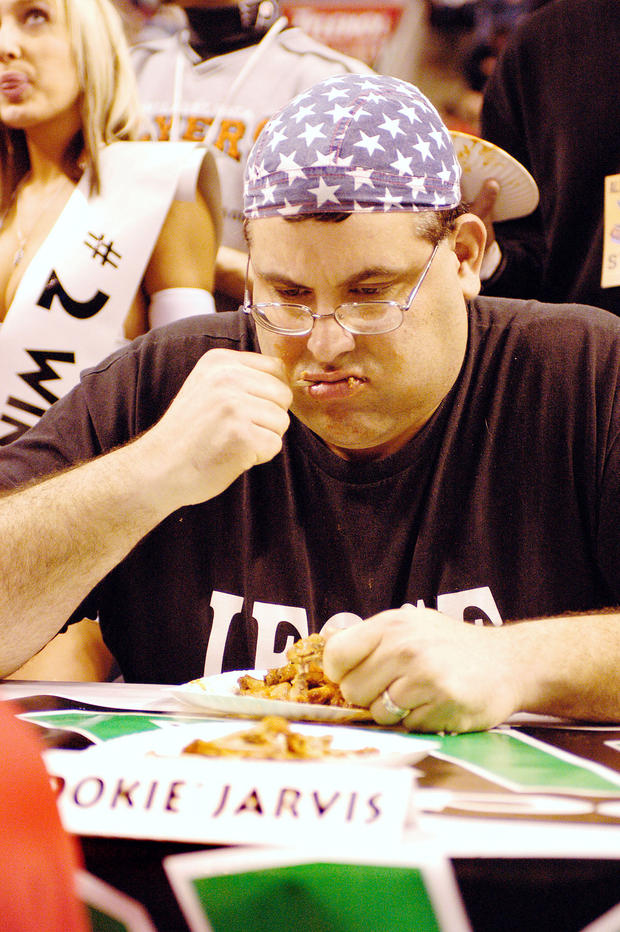 Getty Images
Jarvis holds eating records for, among other foods, chicken wings, dumplings, ice cream, French fries and grapes.
"Sometimes I would eat 12 to 15 pound of cabbage in one sitting to stretch my stomach. Sometimes I would drink several gallons of water," he said.
Once you start practicing with a target food, it can quickly get pricey. The current men's record for eating hot dogs is 73 hot dogs in a sitting; eating that much in a practice run can easily put you out $50 or $60.
Preparing for wing-eating competitions, Jarvis would sometimes get his chomps in at buffets, which were his cheapest option. "It would cost $30-40 if I were to buy the wings," he said.
Jarvis, who works in real estate, kept his job during his eating career — a balancing act he concedes was a challenge. For eaters who have day jobs, which is most of them, juggling the time can be hard. It can also be a strain on relationships, as Tim Janus, another retired eater, revealed on a recent podcast. ("It's much better to be a retired competitive eater when you're dating," he said.)
It's oversubscribed
The field has gotten much more competitive since the early day of MLE. When George and Richard Shea started representing Nathan's in the 1990s, Richard recalls, he had to recruit contestants. He remembers holding qualifying events in shopping malls, where only three or four people would register to compete. He would walk around, looking for "large, grown men" to fill out the roster.
"Now, when we announce any contest, we're typically oversubscribed. More often than not, we have a waiting list," he said.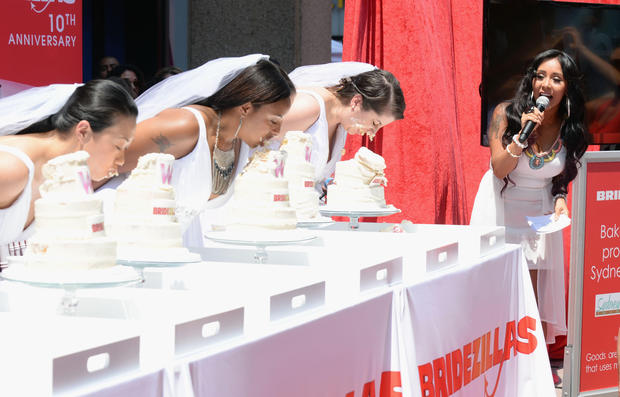 Andrew H. Walker/Getty Images
For the handful of eaters who manage to win consistently, there can be money beyond the "purse" — the prize that's awarded to the top three winners. Joey Chestnut, who has won the Nathan's competition 10 times, with a record 73 hot dogs, reportedly earns $200,000 a year, largely from sponsorships. But the dropoff from first place to second is steep.
"We all wanted more sponsorship," Jarvis recalled. "In some sports you get a tremendous amount of sponsorship and in some you don't. That's just how it is."
Shea compares competitive eating to bass fishing, a sport where most participants do it as a hobby and only a handful have sponsorships.
And even if one does make it to the top, the reign — as in many sports — can be brief. The first competitive eater to become a household name, Takeru Kobayashi, was forced to leave the field nine years ago over a contract dispute with MLE. (He still competes in non-MLE events.)
But for some, dreams of glory aren't so easily abandoned. For Oji, ranked sixth in the world, the goal is to unseat Chestnut as the world's biggest eater. He said he wants to use his public platform to draw attention to pressing issues. The cause dear to his heart? Global hunger.