Hurricane Bud grows to Category 3 force off Pacific coast
MEXICO CITY — Hurricane Bud grew to Category 3 force off Mexico's Pacific coast on Monday. Forecasters said it was likely to weaken before a possible brush with the resort-dotted southern tip of the Baja California peninsula late in the week.
The U.S. National Hurricane Center said Bud had maximum sustained winds of 120 mph Monday morning. It was centered about 265 miles south-southwest of Cabo Corrientes, Mexico, and was moving northwest at 7 mph.
Forecasters said Bud was expected to strengthen further before a slow weakening trend starts Tuesday.
"Significantly cooler waters around the southern tip of Baja California should reduce Bud's intensity below hurricane status before it reaches that land," the center said.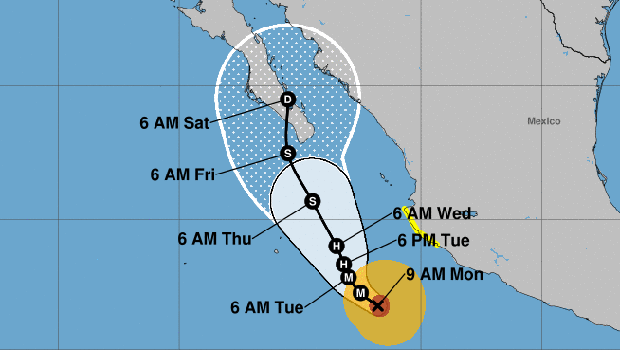 National Weather Service
The hurricane center said the storm could generate swells that cause life-threatening surf and rip currents over the coming days along Mexico's southwestern coast. Rainfall of 3 to 6 inches, with isolated patches of 10 inches, was possible into Tuesday afternoon.
Tropical Storm Aletta
Meanwhile, Tropical Storm Aletta weakened into a tropical depression in the Pacific Ocean far off the Mexican coast and was expected to degenerate further and become a remnant low-pressure system later in the day. The hurricane center said it had maximum sustained winds of 35 mph.
The storm peaked on Friday as a Category 4 hurricane with winds of 140 mph.
© 2018 CBS Interactive Inc. All Rights Reserved. This material may not be published, broadcast, rewritten, or redistributed. The Associated Press contributed to this report.