Kate Spade began with simple wish: An unfussy handbag
Before Kate Brosnahan became Kate Spade, a renowned fashion designer with a globally recognized brand bearing her name, she was simply a young woman annoyed by over-accessorized handbags. That frustration would launch what would eventually grow into a multibillion business.
Starting in the early 1990s, Spade would create a line of sleek and feminine handbags that proved a particular hit with younger and career women. Along the way, she became a role model for a generation of women eager to make their mark in the fashion industry.
Her suicide at age 55 brought expressions of affection and grief on social media, with fashion designer Liz Lange in a tweet recalling Spade as "the nicest woman" who offered supportive words when Lange was just starting out.
"Kate Spade understood the power of fashion to create joy and celebrate femininity," recalled Susan Scafidi, founder and academic director at the Fashion Law Institute at Fordham University. "Her original handbags came along at a time when minimalism and the industrial aesthetic of the black Prada nylon backpack were in vogue, and she changed the game with her bright, whimsical, comparatively affordable creations."
As the highly visible face of her brand, Spade became known for her 1960s bouffant and thick-framed glasses. Yet the look belied a savvy business woman whose company, Kate Spade New York, now has more than 140 retail shops and outlet stores across the U.S., and another 175 internationally. By the time of her death, some estimates put her net worth as high as $200 million.
Before Spade launched her fashion line in 1993, she was an editor in charge of accessories at Mademoiselle magazine in New York — a budding fashion maven weary of handbags that she viewed as excessive and overly complicated.
"I wanted a functional bag that was sophisticated and had some style," she told the New York Times in 1999.
Matthew Peyton
On impulse ahead of an accessories show, Brosnahan stayed up all night to tear her small logo from the inside of her bags and stitch them to the outside. The eureka moment worked, with the tiny symbol helping to imprint the brand name on consumer tastes.
She founded the company that same year with her husband-to-be, Andy Spade, with Spade's bright prints and bags drawing career women and then in later years, young girls. Within a few years she had opened up shop in New York's fashionable SoHo district.
"There was a time in the late 1990s and early 2000s when everyone seemed to be carrying a Kate Spade bag — or a Canal Street counterfeit," recalled Scafidi. "I remember once buying a generic handbag from a dodgy vendor and then being offered a selection of labels that could be hot-glued to it on the spot, Kate Spade prominently among them."
In 1999, the Spades sold the business to Neiman Marcus. The business later changed hands several times, with the brand now existing as a subsidiary of Tapestry (which until 2017 was known as Coach). On Tuesday afternoon, shares of the company were down nearly 1 percent.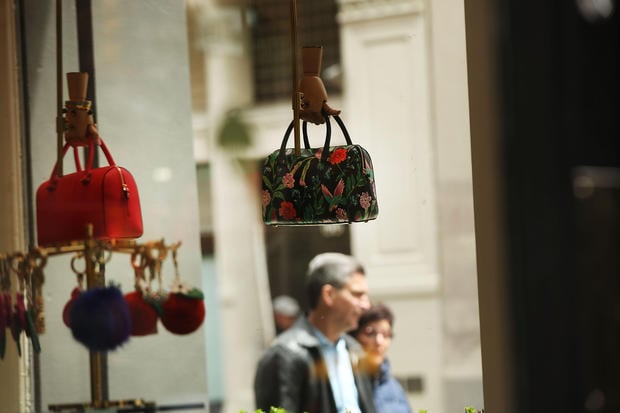 Spencer Platt / Getty Images
When the Spades left the business in 2007 to work on other projects, Kate Spade was generating $1.3 billion in annual revenue and a profit of about $120 million.
In 2016, the couple helped launch an accessories label called Frances Valentine.
"Kate gave her customer a cheerful world of bows and polka dots, and her passing is an unexpected dark cloud," Scafidi said.
© 2018 CBS Interactive Inc.. All Rights Reserved.