Gunman and officer shot at Knoxville High School
https://www.facebook.com/WVLT8/videos/282536583595656/?__cft__[0]=AZVGE6SHDVjR_XpBb7u6JjdJbb37IQBw8HD6jTM_Q6B-aiR4I_CRYqGZWyuuOMZiIP4WHbxRxmVd7WgE5DgTz72Fj-hj69FhUbONhu-iQmTLYazecUfDMYuw0Oeszh3rf_JhuII_asN8qhzU1fysqqwMflR4Iln7JdZePjyTXxUkQw&__tn__=%2CO%2CP-R
Update, 8:05 p.m. – The TBI offers more details on the confrontation in their preliminary report. Officers located the party with a possible weapon inside a restroom. He refused to come out. When officers entered, he opened fire, hitting the police officer. An officer returned fire killing the suspect, who has been identified as a student. The officer suffered non-life-threatening injuries.
______
Update, 5:27 p.m. – Knoxville Police was responding to reports of a person who was possibly armed at Austin-East High School according to a press release from the KPD.
Shots were fired as police approached the person. One police officer was struck and later taken to UT Medical Center where he is in stable condition.
One male is dead and another is in custody.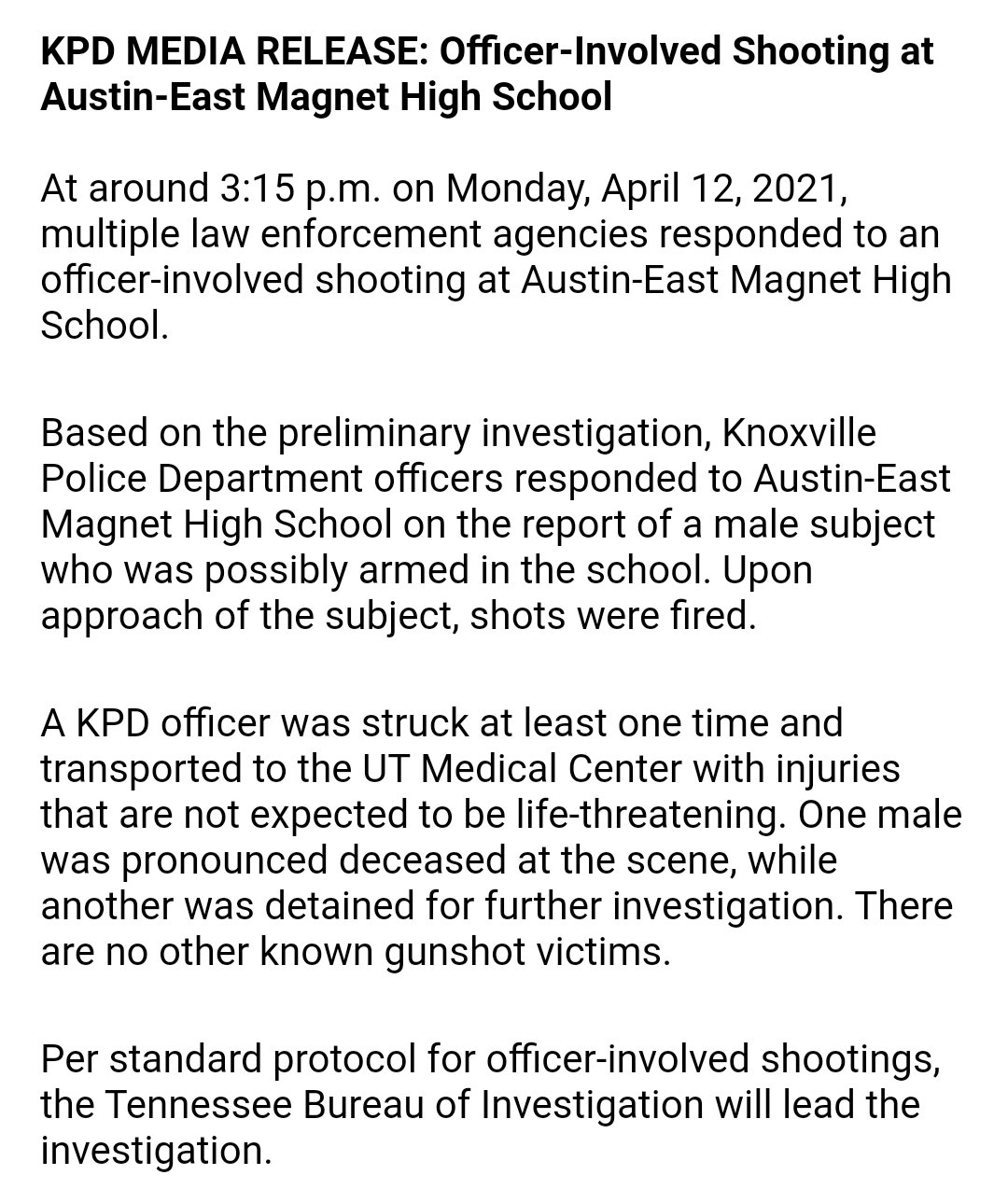 _______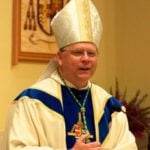 Bishop Richard F. Stika of the Roman Catholic Diocese of Knoxville:
"Once again and regrettably, I am asking for prayers for the victims of another terrible shooting in Knoxville. I have been monitoring today's unfortunate and violent incident and offer my personal prayers for all of the victims, including a law enforcement officer. The series of tragic events that has taken place in recent weeks in Knoxville, especially involving the Austin-East community, and those that have taken place throughout the United States, demonstrate that violence in our society remains a serious, almost daily occurrence and that it claims victims in many different ways. As a nation, we must
commit ourselves to work to turn away from violence and find real solutions that lead us to love, compassion, and decency. As Bishop of the Diocese of Knoxville, I pledge to do what I can to help. Prayers are important, but communities must come together to find positive solutions to this ongoing problem in our country."
_______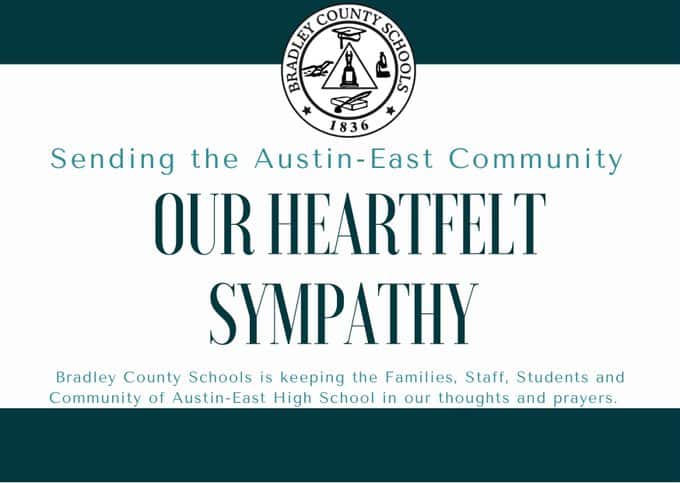 _______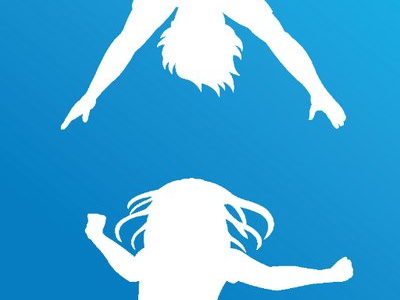 Our hearts are with our friends and neighbors in Knoxville over the news of today's school shooting. Tonight and in the days ahead, we are sending thoughts and prayers to the students, families, and staff of Knox County Schools — Hamilton County Schools
_______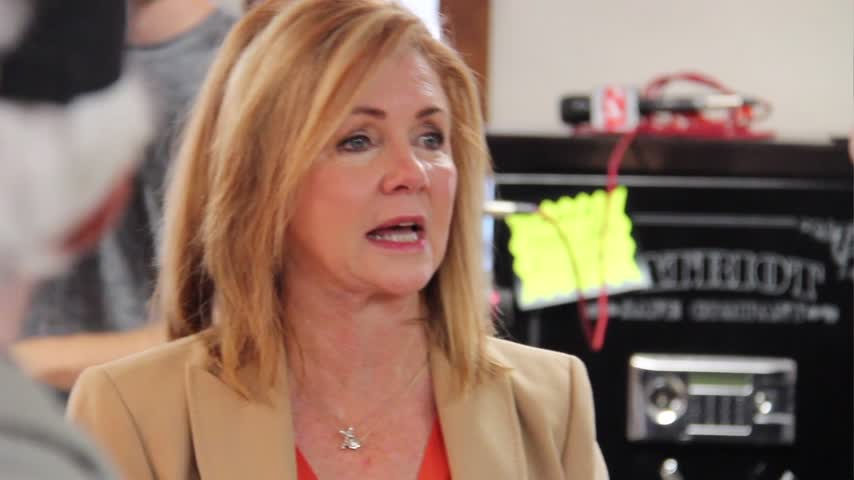 "I am heartbroken to hear about the shooting at Austin-East Magnet High School in Knoxville. My office has been briefed on the situation and I am praying for the community, including the officer injured in the line of duty." – U.S. Senator Marsha Blackburn
_______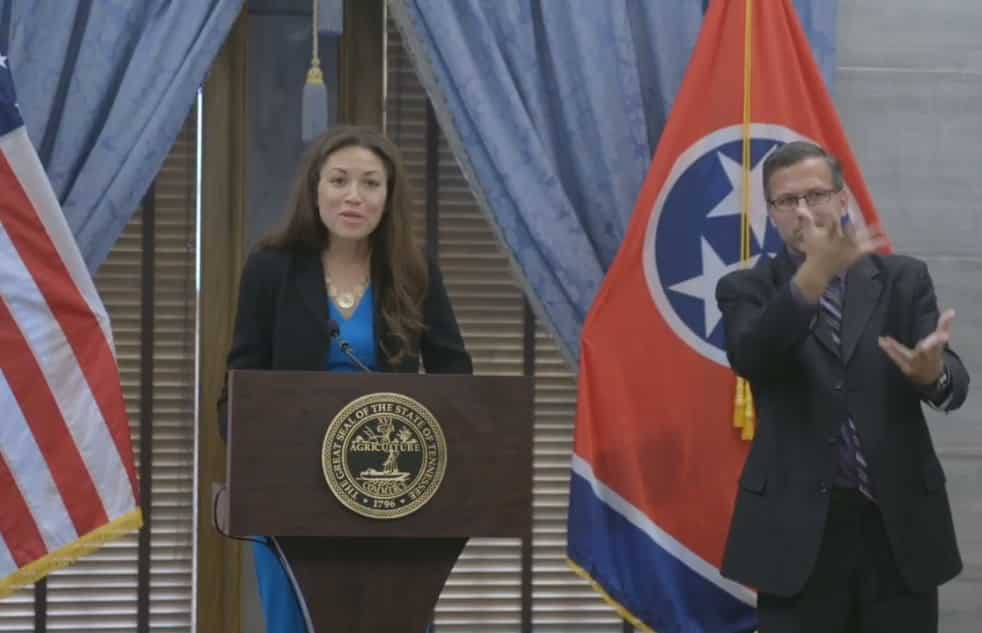 "As details continue to emerge, our thoughts are with every member of the school community in Knoxville who is dealing with the immediate impacts of the shooting that took place this afternoon. The department stands ready to provide support. It is time to wrap arms around the affected students, educators, school staff, their families, and the entire community, to support them through this horrific tragedy." — TN Education Commissioner Penny Schwinn
---
Knoxville, TN (WDEF) – There are multiple gunshot victims including a police officer at a Knoxville area high school Monday afternoon. The Knoxville Police Department said multiple agencies are on the scene at Austin-East High School.
Vice Mayor Gwen McKenzie said, "I'm walking up to the scene now, all I can say is pray," said Vice Mayor Gwen McKenzie, according to WVLT, the CBS affiliate in Knoxville.
This is a developing story.