Mueller probe did not find Trump campaign "conspired or coordinated" with Russia
Special counsel Robert Mueller's investigation "did not establish that members of the Trump Campaign conspired or coordinated with the Russian government in its election interference activities" during the 2016 campaign, he wrote in his final report. Attorney General William Barr summarized the report's findings in a letter to lawmakers Sunday.

White House press secretary Sarah Sanders called the report a "total and complete exoneration of the President of the United States."

Barr says Mueller described the facts surrounding his investigation into allegations of obstruction of justice but made no determination as to whether President Trump committed a crime, deferring to Barr. The report "does not conclude that the President committed a crime, it also does not exonerate him," Barr quotes Mueller as writing.

But Barr said he and Deputy Attorney General Rod Rosenstein determined the available evidence was insufficient to establish Mr. Trump obstructed justice.

Here is the letter:
Key findings from the Mueller report
Obstruction of justice probe did not follow "traditional prosecutorial judgment"
4:16 p.m.: Mueller's investigation into alleged obstruction of justice made no determination about whether Mr. Trump committed a crime, instead deferring to the attorney general:
After making a "thorough factual investigation" into these matters, the Special Counsel considered whether to evaluate the conduct under Department standards governing prosecution and declination decisions but ultimately determined not to make a traditional prosecutorial judgment. The Special Counsel therefore did not draw a conclusion — one way or the other — as to whether the examined conduct constituted obstruction. Instead, for each of the relevant actions investigated, the report sets out evidence on both sides of the question and leaves unresolved what the Special Counsel views as 'difficult issues' of law and fact concerning whether the President's actions and intent could be viewed as obstruction."
Barr determines obstruction evidence "not sufficient" to establish Trump committed crime
4:03 p.m.: While Mueller did not make a judgment about potential obstruction, Barr said the available evidence was insufficient to determine the president broke the law.
"After reviewing the Special Counsel's final report on these issues; consulting with Department officials, including the Office of Legal Counsel; and applying the principles of federal prosecution that guide our charging decisions, Deputy Attorney General Rod Rosenstein and I have concluded that the evidence developed during the Special Counsel's investigation is not sufficient to establish that the President committed an obstruction-of-justice offense."
No future indictments or sealed indictments
3:57 p.m.: Barr writes that there are no outstanding indictments in the investigation nor any coming in the future.
During the course of his investigation, the Special Counsel also referred several matters to other offices for further action. The report does not recommend any further indictments, nor did the Special Counsel obtain any sealed indictments that have yet to be made public.
Earlier updates
Mueller spotted near the White House
2:08 p.m.: Mueller, known for keeping a low-profile during his long tenure at the highest echelons of U.S. law enforcement, was spotted Sunday morning near the White House after attending services at St. John's Episcopal Church with his wife.
Special counsel Robert Mueller walks past the White House after attending services at St. John's Episcopal Church, in Washington, Sunday, March 24, 2019. Cliff Owen / AP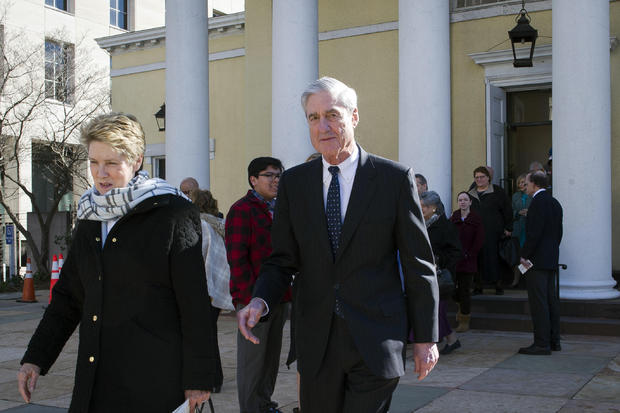 Special counsel Robert Mueller, and his wife Ann, leave St. John's Episcopal Church across from the White House on Sunday, March 24, 2019. Cliff Owen / AP
Jeffries: Trump could be a Russian asset or "useful idiot"
1:28 p.m.: Rep. Hakeem Jeffries, the fourth-highest ranking Democrat in the House, said special counsel Robert Mueller's report should be made public so Americans can find out whether President Trump is a legitimate leader, an asset of the Russian government, a kingpin or a "useful idiot."
"Let's take the first step in terms of the full disclosure of the report and the underlying documentation," Jeffries said on "Face the Nation" Sunday. "The American people deserve to know whether Donald Trump is either: A, a legitimate president; B, a Russian asset; C, the functional equivalent of an organized crime boss or; D, just a useful idiot who happens to have been victimized by the greatest collection of coincidences in the history of the republic."
Asked if House Democrats will seek to launch impeachment proceedings against the president regardless of Mueller's conclusions, Jeffries said his party will focus on its legislative agenda and only initiate impeachment proceedings if the case against Mr. Trump is "compelling."
Read more here.
Hakeem Jeffries says Trump might be illegitimate, a Russian asset or "useful idiot"
Jordan: Democrats fear report won't be "bombshell"
12:56 p.m.: Republican Rep. Jim Jordan of Ohio said congressional Democrats have started sweeping committee probes into President Trump because they'll be disappointed by the report.
"Now it seems like they now think that this is not going to be the bombshell they thought it was going to be. So they're launching all kinds of new fishing expeditions," Jordan said on "Face the Nation" Sunday.
Read more here.
Jordan says Dems fear Mueller report won't be "bombshell" they expected
Schiff says Mueller report should be made public "ASAP"
11:15 a.m.: Democratic Rep. Adam Schiff of California, the chairman of the House Intelligence Committee, said on "Face the Nation" Sunday that the Mueller report should be released to the public as soon as possible.
"I have great confidence in Bob Mueller's judgment as to who should be prosecuted or who should not," Schiff said. "We're going to have to wait to see the report, and that report needs to be made public ASAP so we can evaluate the body of evidence on the issue of conspiracy and look at why Bob Muller decided not to indict."
Read more here.
Schiff: Mueller's report "needs to be made public ASAP"
White House says it hasn't seen Mueller report
9:50 am.: Hogan Gidley, the White House deputy press secretary, said Sunday the White House has yet to receive or be briefed on the Mueller report. On Friday, press secretary Sarah Sanders said, "The next steps are up to Attorney General Barr, and we look forward to the process taking its course."
Nadler: "Executive privilege cannot be used to hide wrongdoing"
9:40 a.m.: New York Rep. Jerry Nadler, the Democratic chairman of the powerful House Judiciary Committee, which has the authority to initiate impeachment proceedings, said the president can't exert executive privilege to cover up "wrongdoing."
"Executive privilege cannot be used to hide wrongdoing," Nadler said on NBC's "Meet the Press" Sunday morning, citing the precedent set by Richard Nixon, who was forced by the Supreme Court to turn over tape recordings and other subpoenaed materials after he tried to claim executive privilege during Watergate.
"The president may try to exert it, may try to hide things behind it," the New York Democrat added. "But I don't think that's right or [will] be successful."
Nadler said there is already damaging public information about Mr. Trump, regardless of the findings of Mueller's report. He cited a conversation at the White House in 2017 in which the president reportedly told then-FBI Director James Comey to "go easy" on former national security adviser Michael Flynn, who later plead guilty to lying to law enforcement officials and agreed to cooperate with Mueller's investigation.
Trump tweets for first time since report submitted
8:16 a.m.: The president broke a 40-hour Twitter silence with two early morning posts on Sunday:
Mr. Trump is at his Mar-a-Lago resort in Florida and due back in Washington Sunday evening.
House Judiciary asks DOJ to preserve documents related to probe
The House Judiciary Committee has asked the Justice Department, the FBI and the special counsel's office to preserve all documents pertaining to Mueller's investigation. Democrats will pursue this information as they try to make as much of the report public as possible.
Rep. Elijah Cummings, the chairman of the House Oversight Committee, said in an interview with CBS News that the Judiciary Committee should have Mueller testify in order to "bring in the facts and understand his theories and why he declined to do things like file charges."
"We know that there were interference in our election, we need to know why and how that happened. We have an election right around the corner," Cummings said Saturday.
Barr and Rosenstein work through the day Saturday
Barr did not submit any of his principal conclusions to Congress on Saturday.
He and Deputy Attorney General Rod Rosenstein were holed up in the Justice Department along with their principal advisers reading and processing the special counsel's final report, a DOJ official said. The official said "very few" people inside the building have access to the report, but would not provide the exact number. The official also declined to say whether either Barr or Rosenstein brought it home overnight.
Barr is still expected to deliver the report by the end of the weekend as he promised in his letter to the House and Judiciary Committees.
Will Mueller be subpoenaed by Congress?
Will Robert Mueller be subpoenaed by Congress?
CBS News' Paula Reid said Mueller will likely be subpoenaed by Congress.
Barr will decide how much of Mueller's report should be made public, based on national security interests and on the guideline that the Justice Department does not reveal details about why an individual is not being prosecuted. However, members of Congress can subpoena Mueller to testify, and therefore get more information on the Russia investigation from the special counsel himself.
"I do expect that he will likely, at some point, be subpoenaed, and sources close to Mueller confirm that he would comply with that subpoena," Reid said Saturday on CBSN.
Mueller could be called to testify in closed hearings, or in the interest of transparency Congress could choose to hold open hearings, as they did with Michael Cohen in February.
"In terms of what he can and cannot tell Congress, a lot of that just falls along the traditional Justice Department guidelines of information that may be classified or covered by executive privilege," Reid said.
Mueller has largely remained out of the public eye throughout the Russia investigation. The special counsel's office has rarely commented to the media.
"If he was to testify in Congress, which I do think is quite likely, it would be a blockbuster," Reid said.
Other investigations are ongoing
Although the special counsel probe has ended, investigations are continuing in Congress and in federal and state courts.
House Intelligence Committee Chairman Adam Schiff, a California Democrat, has expanded the parameters of the committee's probe into Russian interference in the 2016 election. House Judiciary Committee Chairman Jerry Nadler has launched an extensive investigation into whether Mr. Trump obstructed justice by firing Comey. In early March, the Judiciary Committee requested documents from 81 entities and individuals, from the White House to Donald Trump Jr. and Trump Organization CFO Allen Weisselberg.
The U.S. Attorney's office in the Southern District of New York has also launched investigations into Mr. Trump and the Trump organization.
Former U.S. Attorney Preet Bharara, who was fired by Mr. Trump in 2017, told "CBS This Morning" this week that unlike Mueller, the Southern District is not blocked from any wider investigations by Justice Department guidelines. "They can look at crime as they see fit, "Bharara said. "They can bring a case against anyone they think that justice needs to be served. They don't care how powerful you are, they don't care what party you're from, they don't care what your assets are. They're tough and aggressive and independent."
The New York state attorney general has also launched inquiries into Mr. Trump's business dealings.
Analysis: Lack of indictments indicates that Mueller did not find "a conspiracy of collusion"
Jonathan Turley, a professor at George Washington University Law School and a contributor to CBS News, told "CBS This Morning: Saturday" that the absence of further indictments would "indicate that [Mueller] did not find a conspiracy of collusion."
"You cannot collude alone. So if there is collusion here, one would expect that other people will be charged," Turley said. "The policy is you can't charge a sitting president, but that doesn't apply to other people."
Justice Department guidelines dictate that a sitting president cannot be indicted. Allies of Mr. Trump in Congress have pointed to the lack of further indictments as evidence that the president committed no wrongdoing. However, several former campaign and administration officials were indicted as part of Mueller's investigation.
"But let's give the administration its due: if the special counsel found there is no collusion, that is a vindication for the president," Turley said. "It doesn't mean that he acted appropriately, it doesn't even mean that the special counsel didn't find evidence that could be criminal. But it clearly indicated that he doesn't believe there is a criminal case to be made."
Why the Mueller report could be good news for Trump
What does the Mueller report mean for Trump?
President Trump's attorneys have an "expectation" that Mueller's final report will be good for the president, CBS News' Major Garrett reported Saturday.
"They feel in the end this will not have new indictments. The report is done. The special counsel's office is essentially shuttered and they believe not only legally, but importantly politically, the president will be found to be largely, if not completely in the clear," Garrett said.
One reason the final report could be good news for Mr. Trump is because the special counsel didn't press for a face-to-face interview. Instead, Mr. Trump submitted a series of written answers to the special counsel. In addition, White House lawyers provided more than 20,000 documents and several advisers were interviewed.
"The question now becomes can Congress get any farther — if there is somewhere to go that Mueller was not able — [and would]…have more powers than Robert Mueller had? Probably not," Garrett said.
A brief timeline of the investigation
Mueller's probe has spanned multiple jurisdictions and Trump associates over the past two years.
Here are some key dates from the Mueller probe:
2013: The FBI conducts interviews of Trump associates Paul Manafort and Carter Page as it relates to conducting business with foreign actors.
2014: The Internet Research Agency (IRA) leads Russian efforts to interfere in the U.S political system, including the 2016 presidential election.
July 2015: The FBI opens investigation into Hillary Clinton's use of private email server while she was secretary of state.
September 2015: The FBI becomes aware of Russian hack into DNC tries to inform DNC
June 9, 2016: Paul Manafort, Jared Kushner and Donald Trump Jr. meet at Trump Tower with Russian lawyer who promised "dirt" on Hillary Clinton. The meeting was arranged by Trump Jr. and Rob Goldstone, the publicist for pop star Emin Algarov. Goldstone told Trump Jr. that the information comes from the Kremlin
October 7, 2016: WikiLeaks releases messages stolen from the personal email account of Hillary Clinton's campaign chairman, John Podesta.
January 6, 2017: The Office of the Director of National Intelligence releases a declassified version of a highly sensitive report accusing the Kremlin of organizing a sophisticated influence campaign "to help President-elect Trump's election chances when possible by discrediting Secretary Clinton." Both President Obama and President-elect Trump are briefed on the report. They are both also briefed on a 35-page dossier compiled by former British spy, Christopher Steele, that alleges the Kremlin had compromising information on President-elect Trump.
January 20, 2017: Donald Trump is sworn in as 45th president. CBS News reports investigators are looking at business ties between Trump associates and Russia and are tracking finances of some of the hackers linked to attacks on U.S. political organizations. Manafort's name surfaces
February 14, 2017: In a private meeting in the Oval Office, President Trump asks FBI Director Comey to end the investigation into Flynn. Comey documented the meeting in a memo. Trump said to Comey in the meeting, "I hope you can see your way clear to letting this go, to letting Flynn go." He adds, "He is a good guy, I hope you can let this go." Comey responds and agrees that Flynn "is a good guy."
March 20, 2017: Testifying before the House Intelligence Committee, FBI Director James Comey confirmed the existence of a federal investigation into possible collusion between the Trump campaign and the Russian government.
May 9, 2017: President Trump fires FBI Director James Comey.
May 17, 2017: Deputy Attorney General Rod Rosenstein appoints Robert Mueller as Special Counsel to oversee a "full and thorough investigation of the Russian government's efforts to interfere in the 2016 presidential election." He also authorizes Mueller to investigate "any matters that arose or may arise directly from the investigation," and "any other matters" within the scope of the special counsel law.
October 30, 2017: Former Trump aides Paul Manafort and Rick Gates are indicted on various charges, including conspiracy and money laundering. On the same day, George Papadopoulos pleads guilty to making false statements to the FBI and agrees to cooperate with federal investigators.
December 1, 2017 : Michael Flynn pleads guilty to making false statements to the FBI and agrees to cooperate with the special counsel.
February 16, 2018: The Justice Department announces charges against 13 Russian nationals and three companies for operating a sophisticated network designed to meddle in the 2016 American election and aid the candidacy of Donald Trump.
February 23, 2018: Rick Gates pleads guilty to lying and conspiracy against the U.S.
April 4, 2018: Dutch lawyer Alex van der Zwaan, of Skadden Arps, is sentenced to 30 days in prison and fined $20,000 for making false statements to investigators about work he had done for Ukraine.
August 21, 2018: Federal jury finds Manafort guilty of eight criminal counts, including tax fraud. The court declares a mistrial on 10 other counts faced by Manafort
August 21, 2018: Michael Cohen pleads guilty to violating campaign finance laws and other charges. He says the president instructed him to make payments to two women during the presidential campaign to prevent them from publicly discussing affairs they claim to have had with Mr. Trump
September 7, 2018: George Papadopoulos is sentenced to serve two weeks in prison and pay nearly $10,000 for lying to federal investigators.
March 13, 2019: Manafort receives final sentence from District of Columbia federal court. He'll serve over seven years in prison combined for convictions in Virginia and the District of Columbia.