Murphy hospital announces name change to show growing influence
Murphy, North Carolina (WDEF) – After nearly four decades of operating as Murphy Medical Center, hospital officials announced a name change on Friday.
The facility will now be known as Erlanger Western Carolina Hospital.
The Murphy hospital joined Erlanger Health Systems last spring.
The name-change follows an in-house study that found the old title was "too narrow focused."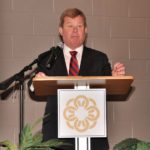 CEO Mark Kimball says Erlanger Western Carolina Hospital has become a regional facility in both North Carolina and northwest Georgia.
"Today we play a vital role in the healthcare of families and business throughout the region, and we now have healthcare providers in surrounding areas like Andrews and Hayesville."
Kimball says the hospital's top priority now is recruiting new physicians.
Chief of Staff Dr. Tom Clayton adds "It's important to keep young blood in our medical community as our physician staff does get older and Erlanger is helping us with that."
So part of their announcement today was debuting a new recruiting video to bring young doctors to the mountains.