One of 2 "black boxes" found from doomed Lion Air jet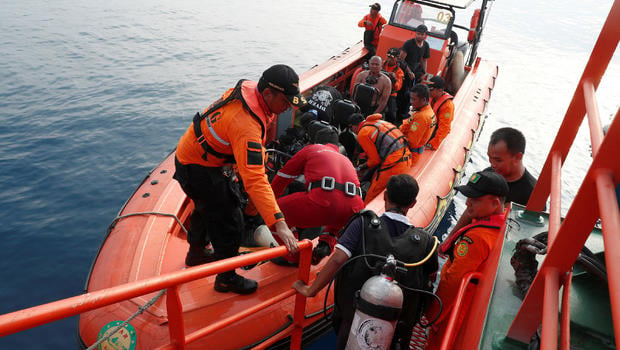 Last Updated Nov 1, 2018 2:48 AM EDT
JAKARTA, Indonesia — Divers on Thursday recovered a flight recorder from the crashed Lion Air jet on the seafloor, a crucial development in the investigation into what caused the 2-month-old plane to plunge into Indonesian seas earlier this week, killing all 189 people on board.
One TV station showed footage of two divers after they surfaced, swimming to an inflatable vessel and placing the bright orange device into a large container that was transferred to a search-and-rescue ship.
"I was desperate because the current below was strong but I am confident of the tools given to me," said navy 1st Sgt. Hendra, who uses a single name, in a television interview. After narrowing the possible location, "I started digging and cleaning the debris until I finally found an orange object," he said, standing on the deck of a ship next to his diving mate.
The Boeing 737 MAX 8 plane crashed early Monday just minutes after takeoff from the Indonesian capital of Jakarta.
As of the end of the day Wednesday, 56 body bags containing human remains had been sent to a Jakarta hospital for identification using DNA samples provided by family members, officials said.
It was the worst airline disaster in Indonesia in more than two decades and renewed concerns about safety in its fast-growing aviation industry, which was recently removed from European Union and U.S. blacklists.
The device recovered by divers is the flight data recorder and the search continues for the cockpit voice recorder, Transport Minister Budi Karya Sumadi told a news conference.
It was found about 500 meters (yards) northwest of the coordinates where the plane lost contact and at a depth of 30 meters, said search and rescue agency head Muhammad Syaugi.
Navy Col. Monang Sitompul told local TV that what is believed to be the aircraft's fuselage was also seen on the seafloor.
Data from flight-tracking sites show the plane had erratic speed and altitude in the early minutes of a flight on Sunday and on its fatal flight Monday. Safety experts caution, however, that the data must be checked for accuracy against the flight data recorder.
Several passengers on the Sunday flight from Bali to Jakarta have recounted problems that included a long-delayed takeoff for an engine check and terrifying descents in the first 10 minutes in the air.
Lion Air has ordered 50 of the MAX 8 planes and one of its subsidiary airlines was the first to operate the new generation jet last year.
Investigators say a preliminary report into the accident could be released within a month but complete findings will take several months.
The Lion Air crash is the worst airline disaster in Indonesia since 1997, when 234 people died on a Garuda flight near Medan. In December 2014, an AirAsia flight from Surabaya to Singapore plunged into the sea, killing all 162 on board.
Indonesian carriers were barred in 2007 from flying to Europe because of safety concerns, though several were allowed to resume services in the following decade. The ban was completely lifted in June. The U.S. lifted a decade-long ban in 2016.
Lion Air, a discount carrier, is one of Indonesia's youngest and biggest airlines, flying to dozens of domestic and international destinations. It's been expanding aggressively in Southeast Asia, a fast-growing region of more than 600 million people.
© 2018 CBS Interactive Inc. All Rights Reserved. This material may not be published, broadcast, rewritten, or redistributed. The Associated Press contributed to this report.