Police fire tear gas at Paris protesters as authorities seek to keep lid on unrest
PARIS — French riot police fired tear gas and water cannon in Paris on Saturday, trying to stop thousands of yellow-vested protesters from converging on the presidential palace to express their anger at high taxes and French President Emmanuel Macron.
Security officials imposed a lockdown on parts of central Paris, determined to prevent a repeat of the rioting a week ago that damaged a major monument, injured 130 people and tarnished the country's global image.
Blue armored vehicles rumbled across cobblestone streets from the Arc de Triomphe across toward eastern Paris as scattered demonstrations spread around the city. Police were mounted on horses and surrounded protesters with trained dogs. A ring of steel surrounded the Elysee Palace itself, as police stationed trucks and reinforced steel barriers in streets throughout the entire neighborhood.
By midday, as many as 5,000 demonstrators had gathered in Paris' center, according to BBC News. More than 400 were being held in custody, according to a Paris police spokeswoman, The Associated Press reported.
Exceptional security measures were in place. Authorities deployed barricade-busting armored vehicles and 8,000 police in the capital alone. Nationwide, some 89,000 security forces fanned out to deter or confront troublemakers expected at multiple protests.
Prized Paris monuments and normally bustling shopping meccas were locked down. Among the tourist attractions that were closed were the Eiffel Tower and Louvre Museum, fearing damage after rioting and looting last Saturday.
Parts of Paris looked like they were bracing for a hurricane, with boards on windows covering up the Christmas decorations. Police removed any materials from the streets that could be used as weapons, especially at construction sites in high-risk areas.
Thibault Camus/AP
While scattered scuffles broke out Saturday around central Paris, the action seemed less violent overall at midday than at the same time a week ago. Crowds last weekend descended into chaos and destruction, and 400 people were arrested, CBS News' Charlie D'Agata reported.
Police went into overdrive Saturday to keep a lid on more unrest. They frisked people or searched bags every hundred meters or so throughout central Paris. Protesters who came to Paris from Normandy described seeing officers block yellow-vested passengers from boarding at stops along their route.
Macron's government had warned that the yellow vest protests had created a "monster" and that the Paris actions would be hijacked by radicalized and rebellious crowds and become the most dangerous yet after three weeks of demonstrations.
Many members of the protest movement, which began as resistance against a rise in taxes for diesel and gasoline, are calling for calm. And some struck a conciliatory tone after meeting the prime minister Friday night.
But that didn't deter many people from trying to march on the presidential palace Saturday. The grassroots movement has quickly expanded to encompass frustration at stagnant incomes, the growing cost of living and other grievances. And while Macron agreed to abandon the fuel tax hike, that hasn't defused the anger — embodied by the fluorescent safety vests that French motorists are required to keep in their cars.
"We are here to tell (Macron) our discontent. Me, I'm not here to break things because I have four children so I am going to try to be safe for them because they are afraid," said protester Myriam Diaz. "But I still want to be here to say 'Stop, that's enough, this has to stop.'"
Some were calling for Macron's resignation, CBS News' D'Agata reported.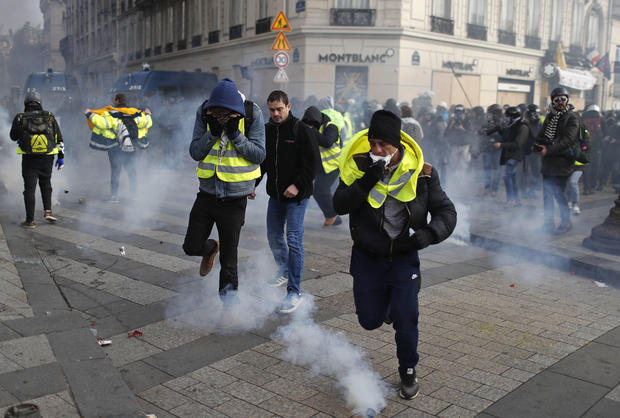 Thibault Camus/AP
Protesters also blocked roads, roundabouts and tollbooths elsewhere in France. Offshoot movements have emerged elsewhere, and yellow-vest protests were held Saturday in Belgium and the Netherlands.
The movement has no clear leaders.
Macron himself, the target of the protesters' ire, has been largely invisible in recent days, leaving his prime minister and government to try to negotiate with protesters.