Prince Harry and Meghan Markle mobbed by fans on 1st overseas trip as married couple
LONDON — Hundreds of well-wishers turned out to catch a glimpse of Prince Harry and his wife, the former actress Meghan Markle, as they made their first overseas walkabout in Dublin Wednesday. Students and tourists flocked to the Irish capital's Trinity College, screaming and shouting to greet the royal couple, who were on their first official trip abroad as a married couple.
Soccer was a hot topic, with England playing Croatia in the semi-final World Cup match. Harry asked the crowd: "Are you all cheering for England?" and chatted away with university students about soccer.
BBC News reports the couple visited Trinity College to view the Book of Kells, a ninth-century illuminated manuscript of the gospels that is one of Ireland's greatest cultural treasures.
Earlier, the Duke and Duchess of Sussex, as they are formally known, met with Irish President Michael D. Higgins at his official residence.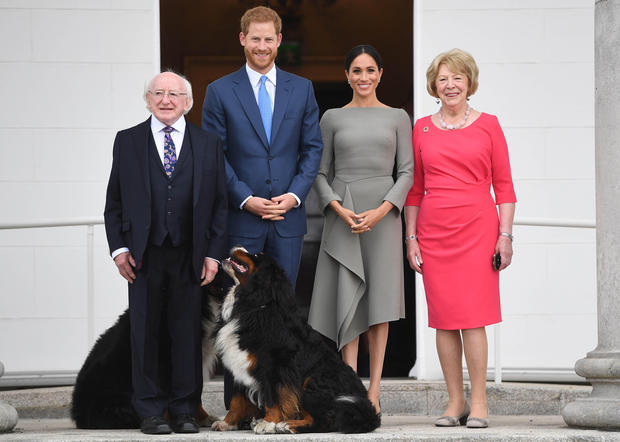 View Gallery
Andrew Parsons/i-Images/Getty Images
When asked by a reporter if "football was coming home" — a reference to England's chances of winning the World Cup — Harry triggered laughter when he answered with a grin: "Most definitely."
The royal couple also visited the headquarters of the Gaelic Athletic Association, the scene of the Bloody Sunday massacre committed by British troops against civilians in 1920.
Harry said Tuesday that he hoped to take the opportunity to reflect on the "difficult passages" in the history between Britain and Ireland.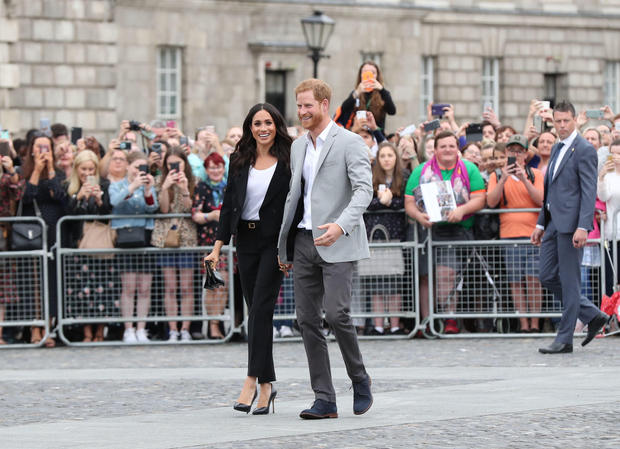 View Gallery
Getty Images
Earlier this week, the couple attended Prince Louis' christening back home in London, at the Chapel Royal in St. James's Palace.
© 2018 CBS Interactive Inc. All Rights Reserved. This material may not be published, broadcast, rewritten, or redistributed. The Associated Press contributed to this report.