"Tent City" for migrant kids to stay open longer than planned
TORNILLO, Texas — The "Tent City" housing hundreds of minors either apprehended after crossing the Mexican border unaccompanied, or separated from adults after crossing, will remain open at least one month longer than initially planned, a spokesperson for U.S. Department of Health and Human Services (HHS) confirmed to CBS News Monday.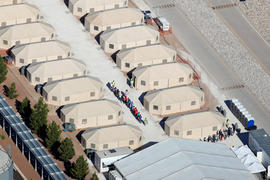 MIKE BLAKE / REUTERS
The facility, which includes two rows of bunk bed-lined tents, was opened on June 14 at the Tornillo Port of Entry, about 39 miles south of El Paso. The facility was planed as temporary and was initially slated to be open for 30 days, closing on July 13. The facility is now expected to continue operations at least through Aug. 13, according to Kenneth Wolfe, a spokesperson for HHS' Administration for Children and Families.
"HHS will continue to assess the need for this temporary shelter at Tornillo Land Port of Entry in Tornillo, Texas, based on projected need for beds and current capacity of the program," Wolfe said.
Krista Piferrer, Executive Vice President of External Affairs for BCFS, the nonprofit contracted to manage the Tornillo facility, said in an email to CBS News that the Tornillo facility is remaining open because other permanent options within the Office of Refugee Resettlement's bed system are filled at high capacity. She said the organization is hoping beds in other facilities will open up after thousands of children are reunited with parents from whom they were recently separated.
"Until then, we will not abandon those at Tornillo and will continue to provide services on a week-by-week basis, Piferrer said. "Our commitment is to only remain operational until the youth are released to a sponsor or transferred to a regular shelter by ORR."
Piferrer said the exact number of children sheltered at the facility changes daily, but it currently has space for up to 400.
A CBS News investigation revealed on July 5 that a loophole in ORR policy allows the Tornillo facility and one other massive temporary shelter in Homestead, Florida to escape the rigorous, often unannounced child welfare inspections that all other similar shelters operated by ORR are subjected to.
Tornillo and Homestead are located on federal land, where state officials have no authority.
They remain open nearly three weeks after the federal government's "zero tolerance" immigration policy was suspended June 20 via an executive order issued by President Donald Trump, following widespread public outcry. Six days later, a federal district court judge ordered the federal government to reunite all separated children under five years old with their parents by July 10, and all others by July 26.
In a press release Sunday, the ACLU said the federal government had turned over a list of 102 children under the age of five, but the nonprofit said it expected less than half would be reunited with their families by the July 10 deadline. However, an administration official told CBS News' Paula Reid Monday that the U.S. Department of Justice believes the government is on track to reunify almost all children under five by the court's July 10 deadline.
There are as many as 2,900 more children five or older who remain in federal custody awaiting the July 26 deadline, HHS Secretary Alex Azar said Thursday.
© 2018 CBS Interactive Inc. All Rights Reserved.