The 49th annual celebration of National EMS Week begins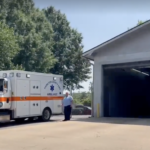 CHATTANOOGA, Tenn. (WDEF)- May 21st began the 49th annual celebration of National EMS Week.
EMS Week is a week to honor frontline heroes dedicated to providing pre-hospital emergency medicine that saves lives.
This year's theme is "WHERE EMERGENCY CARE BEGINS," in order to remind people that workers are faced with new challenges every day, and yet, they continue to respond, support, and care for the needs of the community.
Currently, Hamilton County EMS operates 16 ambulances, strategically placed throughout Hamilton County, and has 160 Licensed Paramedics, Advanced EMTs, and EMT's.
This past year, HCEMS responded to over 53,000 emergency calls for emergency medical services.
Thank you to our first responders for saving lives every single day!