What Trump's up against in negotiations with Putin
HELSINKI, Finland — As President Trump meets Russian President Vladimir Putin on Monday in Helsinki, he takes on one of the most experienced negotiators on the world stage. During Putin's 18 years in power he's met every U.S. President since Bill Clinton.
George W. Bush said he looked into Putin's eyes to get a sense of his soul, while President Obama sought a "reset" in relations with Russia.
But relations are at a low point — circumstances which, in spite of Russia's meddling in U.S. democracy and unilateral annexation of Crimea from Ukraine, Mr. Trump blamed overnight squarely on his own predecessors in the United States.
So, what does it mean to sit down and negotiate with Vladimir Putin?
CBS News correspondent Elizabeth Palmer says Putin came from nowhere in 2000 to become one of the most controversial and famous leaders on the planet. He's a complex personality and it has taken almost two decades for the West to understand how he operates.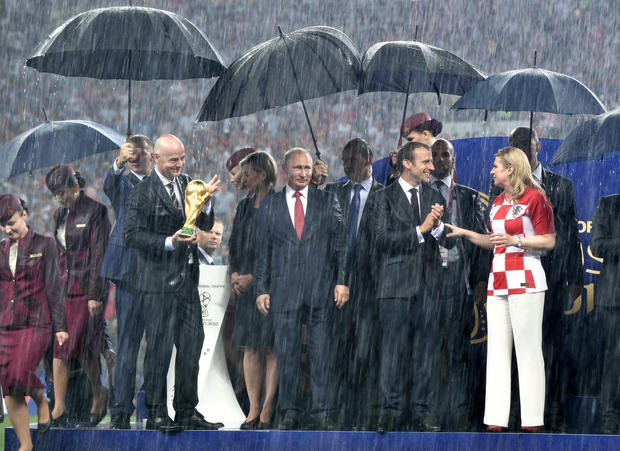 SPUTNIK/REUTERS
Last night, during World Cup celebrations in the pouring rain, Putin stayed dry — sheltered diligently by his loyal staff. Putin is often called a modern day czar. He walks and talks like a man in absolute control.
Trained as a KGB agent during the Cold War, it is in Putin's DNA to view the United States as an adversary. He's an old-fashioned "He-Man," says Palmer; the very opposite of politically correct.
At the negotiating table, Putin's tactics are known to include mind games. He brought his dog to a meeting with the German leader Angela Merkel, who's afraid of them, and once kept President Obama waiting for 40 minutes.
Putin is also populist who can turn on the charm, especially during his regular, epic "Ask The President" televised call-in shows.
He loves wealth and the trappings of power, at almost any cost. Putin brazenly stood center stage at the Sochi Olympics while Russian athletes were doping on an industrial scale.
He respects strength — military and political. Putin has a black belt in judo, and opponents say he's nimble, and ruthless.
John Cipher, a former CIA officer stationed in Moscow, says Putin is "going to look for subtle signals and vulnerabilities that he can take advantage of in the meeting — and a one-on-one meeting is the best opportunity to do that."
Vladimir Putin once said the collapse of the Soviet Union was the greatest catastrophe of the 20th Century. Everything he says and does is about reversing that collapse; in short, making Russia great again.
© 2018 CBS Interactive Inc. All Rights Reserved.