6 suspects charged in police dog shooting and auto burglaries
Officials offer details on the shooting, chase and arrest from Wednesday
CLEVELAND, Tennessee (WDEF) – Investigators have charged 6 juveniles with auto burglaries and the shooting of a K-9 officer on Wednesday.
The crimes and chase happened in Cleveland, while the suspects were picked up later in Chattanooga.
It began early Wednesday morning around 1:40 AM when Cleveland Police responded to an auto burglary in progress call at Park Oaks Apartments on Harrison Pike.
As officers arrived, a white Jeep Gladiator was fleeing.
They gave chase of the vehicle which ran through a fence and headed to I-75.
Pursuing officers learned the vehicle was stolen in Hamilton County.
The suspects jumped out of the vehicle around toyota of Cleveland at Exit 20 and ran into the woods.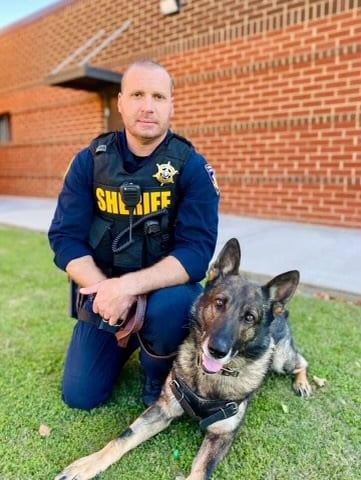 That is when Bradley County deployed K9 Joker.
They say when the dog found the suspects, he was shot in the hear area.
Joker was taken to an animal emergency clinic in Chattanooga.
He underwent surgery and Bradley officials report he remains in very serious condition on Thursday.
"He is an extremely strong patient who is being incredibly tolerant with his doctors and nurses."
The suspects eluded police.
But deputies got a call about another stolen vehicle in the Withrow Rd area which was seen heading back toward Chattanooga.
And there was video of the theft involving four suspects.
Later on Wednesday, C-H-A police spotted that stolen vehicle on Dahlia Street.
When police entered the apartment, they took six suspects into custody who matched the descriptions from Cleveland.
They say they also found stolen property, including two stolen guns.
Now all six male suspects face 15 counts of Auto Burglary in Cleveland plus Evading Arrest.
The Bradley County Sheriff's Office added their own theft charges, along with Attempted Intentional Killing of An Animal.