A Taste of Summer: Shanghai's soup dumplings
Time for a "Taste of Summer" Shaghai-style … served up by Ben Tracy:
In the hyper-modern metropolis of Shanghai, the present often looks a lot like the future. But down just about any street there are still signs of the city's culinary history. Soup dumplings steaming on the sidewalk.
Crystal Mo is a food writer in Shanghai. She took Tracy to one of her favorite spots for the city's most famous dish: xiaolongbao, otherwise known as soup dumplings.
A hungry lunch crowd was lined up out the door of what Mo called "real neighborhood xiaolongbao joint.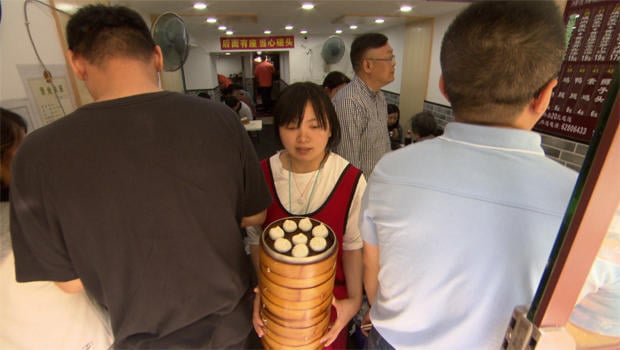 CBS News
"This shop is the kind of neighborhood place that are still in every neighborhood in Shanghai," she said.
Soup dumplings begin like most dumplings do. Dough is rolled out and pressed into little circles.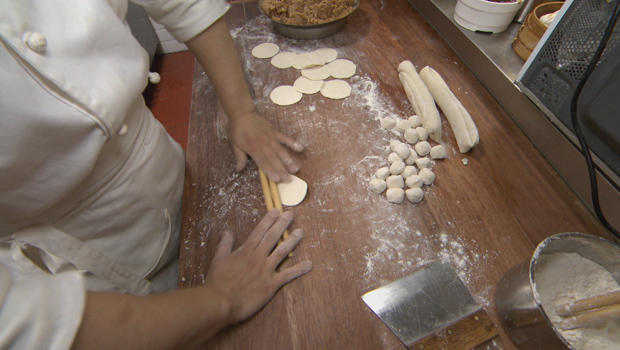 CBS News
The filling, usually pork, is placed inside.
They are carefully folded by hand, creating perfect dumpling dimples. A higher number of folds, up to 22, is considered a sign of a higher-quality dumpling.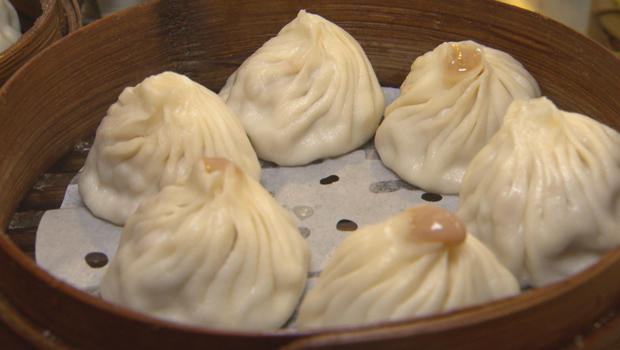 CBS News
But what about the liquid in a soup dumpling? "It seems magical," said Mo. "When people come to China and have it for the first time, they're like, 'So, is it injected? Is it a hypodermic needle? How do you get all that soup inside the dumpling?'"
The soup comes from pork aspic, a jellied pork oil cut up into the meat mixture. When the dumplings are steamed, it liquefies, creating the distinctive soup inside.
Tracy said, "I assume this is not health food; it tastes way too good!"
"It depends on what kind of diet you're on," Mo smiled.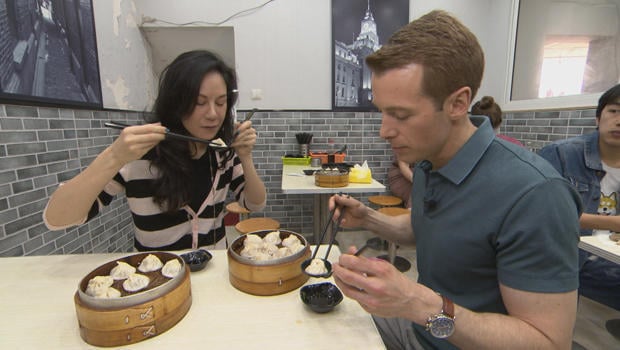 CBS News
The tastiness of soup dumplings is not in question, but its origins are somewhat debatable.
Most agree these dumplings were invented in the 1870s in the Shanghai suburb of Nanxiang. A dumpling maker looking to attract new customers added the pork aspic and then steamed the dumplings in round bamboo baskets.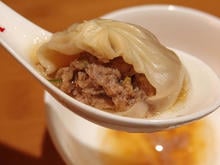 CBS News
They were a hit, and xialongbao was born, which translates literally as "small basket bun."
Decades later, another Shanghai chef moved to Taiwan, and was hired by a cooking oil store named Din Tai Fung. It has now become synonymous with the soup dumpling, with dozens of restaurants all over the world, including several on the West Coast of the United States.
The city is still home to the best xialongbao, and food tours make it their first stop – even if tourists aren't quite sure what to make of it.
Tracy asked, "How would you describe this to someone who has never seen a soup dumpling?"
"It's kind of like a sort of pasta with a meatball inside," one woman replied.
But eating delicate dough filled with piping hot soup takes a bit of practice. "I hope that you are not too attached to your shirt," Mo offered. "What you want to do is take a little bite out of the skin at the top. Then you suck out the soup. And now you have a safe dumpling to eat."
"Not gonna burn my mouth" Tracy said, triumphantly. "This is the kind of food I can eat when I'm not even hungry. I can just keep eating it because it is so good!" he laughed.

More from "A Taste of Summer":

For more info:

Story produced by Chris Laible.
© 2018 CBS Interactive Inc. All Rights Reserved.