Adaptive Kayaking 101 for National Safe Boating Week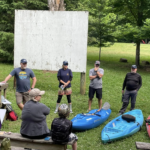 CHATTANOOGA, Tenn. (WDEF)- For the second year in a row, the American Canoe Association joined with Tennessee State Parks and the Tennessee Wildlife Resources Agency offered low-cost kayaking instruction statewide.
In honor of National Safe Boating Week, these classes took place at a total of thirteen state parks.
This year, in Chattanooga, they added Adaptive Kayaking 101.
At Booker T. Washington State Park,  the event offered specialized adaptive paddling equipment for paddlers with physical disabilities.
This event was made possible by the volunteer contributions of Team River Runner- Atlanta and Tennessee Valley Canoe Club.
Catalyst Sports and Chattanooga Therapeutic Recreation Services donated equipment for it as well.