Air Force defends spending more than $300,000 on cups
The Air Force has responded to an inquiry by Sen. Chuck Grassley about the high price of cups purchased for the Travis Air Force Base, where cups have been purchased for $1,280 each this year. Grassley sent a letter earlier this month to Air Force Secretary Heather Wilson, asking for the total combined cost of these cups, and asking why the price of cups had jumped from $693 in 2016 to $1,280 in 2018.
These cups, which are able to reheat liquids, have handles which break when dropped, meaning that they often need to be replaced. In his letter, Grassley asked Wilson "what cheaper alternatives for providing hot coffee have been explored by the Air Force," and whether she would ask the Office of the Inspector General to review the spending on cups.
In a reply dated Oct. 17, Wilson responded that Grassley was "right to be concerned about the high cost of spare parts." The cups plug into aircrafts in order to reheat contents. Wilson also said that a recent review showed that the Air Force is able to make replacement handles for the cups using a 3D printer for 50 cents each.
Responding to Grassley's questions, she said the Air Force had spent $326,785 on 391 of these cups since 2016. The increase in price from $693 is due to increased price for raw materials to make the cup.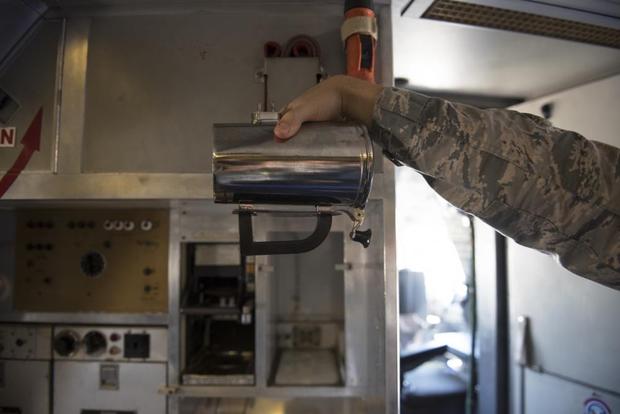 Tech. Sgt. James Hodgman/U.S. Air Force
In a statement, Grassley expressed his continued displeasure with spending taxpayer dollars on Air Force-approved thermoses.
"While I appreciate that the Air Force is working to find innovations that would help save taxpayer dollars, it remains unclear why it cannot find a cheaper alternative to a $1,280 cup. Government officials have the responsibility to use taxpayer dollars efficiently. Too often, that's not the case. I intend to pursue this issue further," he said.
Grassley previously inquired about overpriced toilet seat lids purchased by the Air Force. The Air Force has since moved to making lids with a 3D printer for $300, as opposed to purchasing lids for $10,000 each.
© 2018 CBS Interactive Inc. All Rights Reserved.