Athlete is remembered as the Ironman 70.3 Triathlon returns to Chattanooga
Chattanooga Women's Pro competition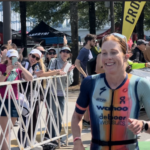 CHATTANOOGA, Tenn. (WDEF)- Professional triathletes from around the world arrived to Chattanooga for the Women's Only professional race offering a $25,000 prize.
This year's race featured the 'women's pro field,' and 30 of them ran in the race this year.
Paula Findlay, last year's runner-up, took home the gold this year. Danielle Lewis took second and Jeanni Metzler came in third.
"It's really fun and very exciting. I felt really good all day, which was great. The weather was great here," said first place winner, Paula Findlay.
A total of 3,200 athletes raced along a 1.4-mile swim down the Tennessee River, a 56-mile bike through Chickamauga, and a 13.1-mile run through downtown.
"It was a really competitive field, grateful to do this for a living. It's really, really fun and it's it's hard work, but it pays off on days like today," said Findlay.
The Chattanooga Ironman offered several qualifying slots to the 2023 Ironman World Championship this summer in Finland.
"The community of this race is so awesome, like the cheering and the fans and the the volunteers are super, super awesome. So it really makes this race fun to come back to," said Findlay.
One racer, Carrie Armstrong, was unable to make the competition, due to her untimely passing following a biking incident while training for the race.
Her husband, Chris Dupree, and two young children, Kai and Dakota Dupre showed up to the race in honor of her.
"I just want to thank everyone here at Ironman. It's been an amazing experience. We've been doing these- both myself and Carrie. She was doing what she loved. It just reinforces, because it impacts us, so close to home, but just keep doing what you love. You don't know what you're tomorrow is. Say the 'I love yous' and do the extra hugs. Let's cheer our families on and everyone else," said Chris Dupre.
The children put medals on the winners as they came through the finish line.
"We're just one big family here, and this weekend really did prove it to me- so thank you everyone," said Dupree.