Barricaded suspect in a classroom at Dalton High
6:15 UPDATE: Dalton High School will be closed on Thursday. Students are allowed to come by the school and retrieve any personal belongings left behind during the evacuation. Classes will resume on Friday.
____
This is the window that was shot out at Dalton High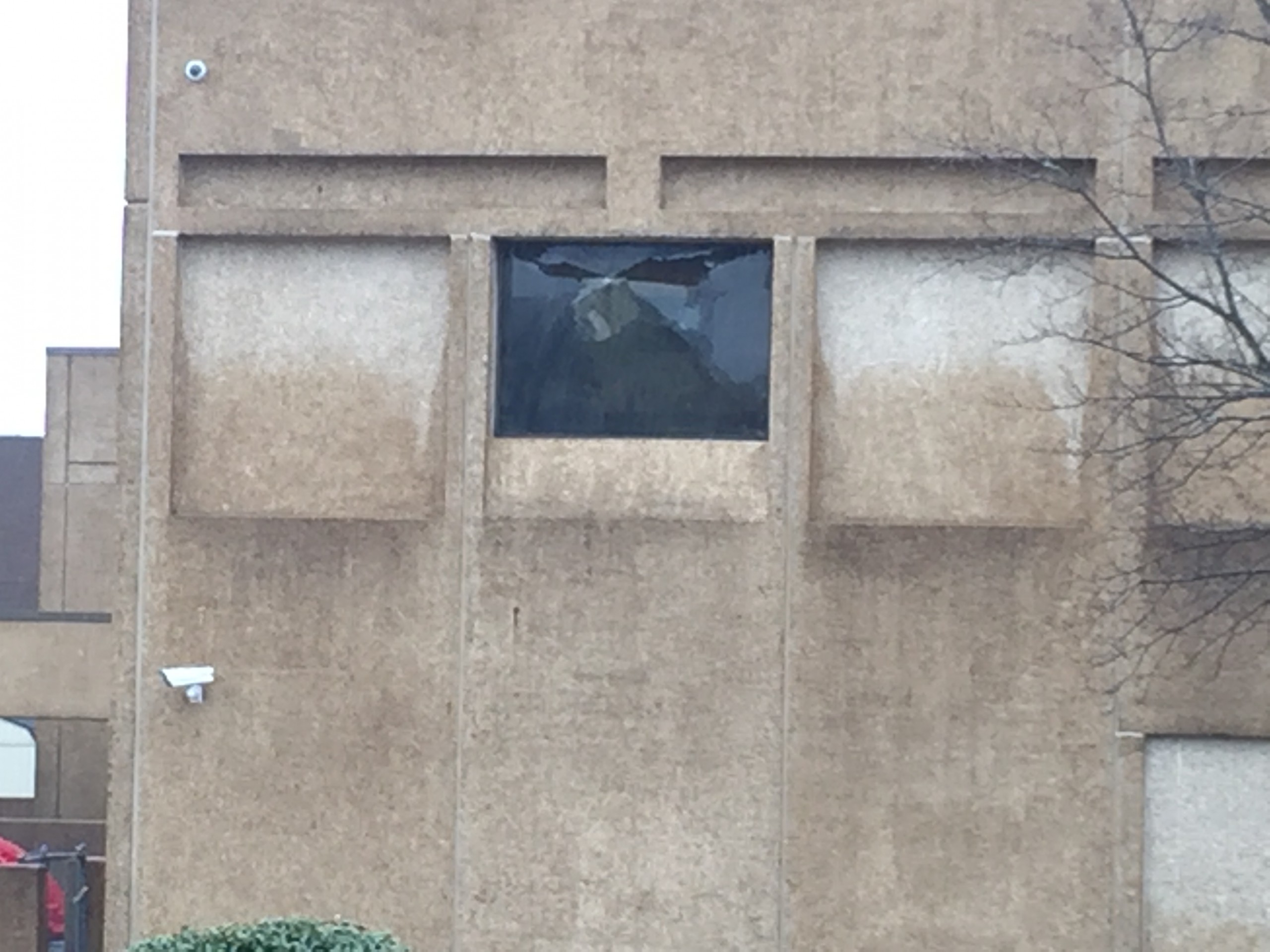 ____
3:30 UPDATE: Principal Steve Bartoo calls Jesse Randal Davidson "an excellent teacher, well thought of." He is absolutely surprised that this happened.
Says it started when students reported that Mr. Davidson was not allowing them to enter the classroom and wasn't making much sense. He closed the door on the Principal. When Mr. Bartoo tried to use his key, Davidson told him "Don't come in here.. I've got a gun."
The Principal began an evacuation and then heard the gunshot.
The SRO was not on campus at that point, but he is the one who eventually talked Davidson to give himself up.
Davidson did fire a shot through an outside window, but was not injured. And no one else was from the shot.
He is now at the Whitfield County Jail.
School officials have not decided yet whether there will be school tomorrow at Dalton High.
Dalton Police Asst. Chief Cliff Cason says school and students reacted flawlessly in the crisis.
The school has had a lockdown drill this semester.
____
2:10 UPDATE: 53 year old Jesse Randal Davidson has been teacher at Dalton High since 2004. The gunshot went through a window, but police do not believe he was aiming at anyone. No one was hit. It happened in room 413. Principal saw Mr. Davidson before hand in his classroom with the door open. Police do not believe he intended to hurt anyone. Davidson is also the play by play voice of Dalton High Football.
____
UPDATE: The situation began around 11:30 AM, when the teacher blocked students from entering his class, principle tried to unlock the door, when they heard a gunshot inside classroom. School evacuated at that point.
Police eventually took the teacher into custody with just the one shot fired.
____
UPDATE: Dalton Police say the teacher had barricaded himself into the classroom and would not let students in.
____
UPDATE: One student hurt an ankle running during the evacuation. Being treated by EMS at the school
____
UPDATE: Police ask parents NOT to come to the high school. Students being moved to the Dalton Trade Center, where parents can meet them.
_____
UPDATE: Suspect is now in custody. Police report it was a male teacher with a gun. No students were harmed.
_____
DALTON, Georgia (WDEF) – Dalton Police have evacuated Dalton High School after a shots fired case this morning.
They say a suspect, probably a teacher, has barricaded themselves in a classroom.
The inside of the school has been evacuated and locked down.
No students are inside and none have been injured.
Dalton Police and Georgia State Patrol are on the scene.