Chattanooga's Orange Grove Center hosted kickoff event celebrating 70th anniversary
The non-profit discussed some big plans they have for the 2023 calendar year.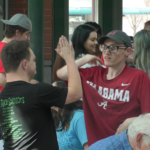 CHATTANOOGA, Tenn. (WDEF) – Chattanooga parents and community leaders started Orange Grove Center back in 1953 to assist those with intellectual and developmental disabilities.
During their event hosted at Miller Plaza today, the group announced some exciting new ventures their organization will take on for 2023.
One planned event for the 2023 calendar year includes the making of a movie that will feature the people and participants of Chattanooga who continue to make the organization a success.
"So you are the first one to hear that. We will be announcing it from the podium here in a few minutes. There are so many people that know someone or someone in their family had a hand in starting Orange Grove 70 years ago and having a really significant impact on the lives of people we support," said CEO of Orange Grove, Tera Roberts.
The non-profit invites members of the community who have had a hand in Orange Grove's first 70 years to visit their campus and be videoed to take part in their documentary.
"We would never have had the success that Orange Grove has had over the last 70 years and continues to have hopefully over the next 70 plus years if it was not for this community. They love us, take care of us, support us and really believe in our mission," said Roberts.
This coming November 9th, the Chattanooga Theater will play the documentary for all to come and see.